When Pacific Palisades Honorary Mayor Eugene Levy was asked to dine for charity, the acclaimed actor was all in – provided the company and food were good.
The Palisades Rotary Club, which is sponsoring the fundraising event, is vouching for the food. The dinner will be served at The Draycott.
However, the Rotarians need the community's support to provide great company.
Residents can buy one or two or more tickets for the raffle drawing, which will be held October 30. Although every Rotary member wants to dine with the town's "mayor" and his wife, Deb Devine, the club will hold the drawing in a public place. Circling the News will see if our new Senior Lead Officer Brian Espin can oversee the drawing to ensure there are no "funny, Chicago-type politics."
Palisadians (and out-of-towners as well) can purchase a $100 ticket from either a Rotary Club member or at the Palisades-Malibu YMCA, which gives them a chance to dine with Levy, a four-time Emmy winner, who with his son, was the creator of the beloved comedy series "Schitt's Creek," in which he also starred. In its final season, the show received nine Emmys – the most ever for a comedy in a single year.
Only 100 tickets will be sold.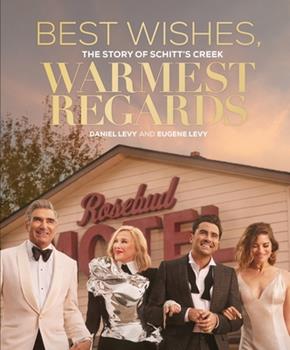 A special coffee-table book, "Best Wishes, Warmest Regards: The Story of Schitt's Creek," written by Eugene and Daniel, will be available October 26. CTN will purchase a copy as a gift for the winner, who can secure an autograph from Levy at the dinner.
Proceeds from the dinner raffle will be split: 50 percent to the YMCA and 50 percent towards three Rotary grants each semester to a Palisades High School senior who works at a job during the school year or on the weekend and another to a senior who is planning on a vocational career.
(Editor's note: The winner must provide proof of Covid-19 vaccination.)