Theatre Palisades Youth will present "Frozen Jr." starting this weekend. If the Monday rehearsal is any indication, Director Lara Ganz will once again have a hit on her hands and sold-out performances.
Forty-one talented youth will participate and, in an effort to allow more kids to have a lead, most of the roles have been double and triple cast. This means if you go three times, you may see someone different in a particular role each time.
If you have a young child who has never seen a live stage production, this 60-minute show in an intimate theatre is the perfect introduction.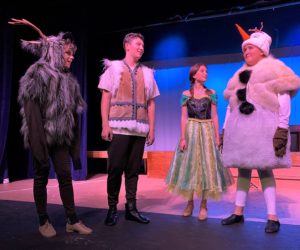 The costumes are incredible, and Ganz praises one of the parents, Zoe Roche, a costume designer by profession, for taking the lead.
"The parents have been a dream to work with," Ganz said, noting that another person who works as a stage manager has been invaluable in helping with this production.
"Steel Magnolias" just finished its run at Pierson Playhouse, and Monday was the first time the young cast–elementary and middle school students–was allowed on the stage.
"All of the parents have been working around the clock," said Ganz, who was remarkably calm as she explained to kids "If you learned this song yesterday, you're in it. If you learned it last week, you're in it. Don't talk about your confusions. Just like Elsa, 'Let It Go.'"
Circling the News asked Ganz what's the toughest thing about working with youth performers (and especially with a cast this size).
"When you're working with kids, you can't have the same expectations as for adults," said Ganz, who is directing her ninth TPY musical and already starting work on a production of "42nd Street" at Paul Revere Middle School. "They need to do their homework, they need to go to school, they need to be kids."
But Ganz added that youthful innocence and enthusiasm make up for the initial lack of professionalism. "They are filled with so much joy and light!" she said.
Ganz admitted that of the musicals she has directed thus far, "The Lion King" has been her favorite, but "if we can pull it together, this will rival it. The kids are so connected to this material. They've known this story and the songs since preschool and the theme of family and sacrifice for those we love resonates with them," she said.
After watching the rehearsal, CTN feels that this may be the best TYP performance yet. One of the cast members is superbly talented with an absolute stunning voice.
Aiding Ganz is Assistant Director Aaron Jung, Musical Directors Nathan Heldman and Harriet Fraser, and Producer Susan Jackman.
"Frozen Jr." is adapted for young performers and includes favorite songs such as "Love Is an Open Door," "Do You Want to Build a Snowman?" and "Let It Go."
Showtimes at Pierson Playhouse on Temescal Canyon Road are 7 p.m. on Fridays, February 21 and 28, and Thursday, February 27; 2 p.m. on Saturdays, February 22 and 29, and Sundays, February 23 and March 1; and at 5 p.m. on Saturdays, February 22 and 29.
Tickets are $15 each and may be purchased at http://www.theatrepalisades.org/youth.html or by calling (310) 454-1970 during box office hours of 3:30 to 6:30 p.m. Wednesday through Saturday.
What's the hardest thing that Ganz faces in putting together a youth production? "Getting them through tech week," she said, but then added, "The hardest thing is to say goodbye when we're all done."