A November 13 "Deadline" exclusive announced that Palisadian Kevin Nealon will bring his popular YouTube unscripted comedy series, "Hiking with Kevin," to television.
TBS is developing a half-hour scripted adaptation which Nealon will headline, co-create and executive produce with former "Modern Family" executive producer Danny Zucker.
Nealon spent four seasons on the CBS sitcom "Man with a Plan," playing Matt LeBlanc's brother. The series ran from 2016 to June 2020.
Of course, many residents felt that Nealon had reached the pinnacle of his career when he served as honorary mayor of Pacific Palisades from 2016 to 2018.
Helping to judge Fourth of July home decorating contests and working to improve cell-tower reception were only two of his major contributions.
When interviewed by Conan O'Brien in April 2016 about his un-elected position, Nealon said he planned to address problems "head on" in Pacific Palisades, such as the drug problem. He noted that botox abuse was rampant.
He also jokingly announced that he planned to address the large homeless problem here—men cheating on their wives and losing their homes.
Born in St. Louis, Nealon was raised in Bridgeport, Connecticut. His father worked for a helicopter company and Nealon, from the time he was six until he was 10, lived in Germany, where he learned to speak the language fluently.
"I learned how to swim in Greece, ski in Austria and argue in Italy," Nealon said.
He is also a gifted artist, but not formally trained. "I'm a doodler. When I fly in planes, I sketch the person next to me."
Nealon said he learned how to draw on his own. "There were two framed caricatures of my mom and dad on my bedroom wall, and I used to study them. When I was in Germany, I saw a sketch of a soldier on a napkin and I practiced drawing it."
He credits drawing maps for geography as another way that he honed his skills.
Growing up, however, "I always wanted to be a musician," said Nealon, who plays guitar. After seeing the movie "Deliverance," he also taught himself to play banjo. "I was too intimidated to sing on stage but started going to clubs and telling jokes."
Ever the people-pleaser, Nealon attended college because "my parents felt strongly about it." He received a degree in marketing from Sacred Heart University in Connecticut.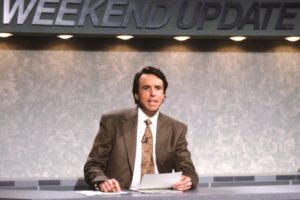 After college, Nealon moved to Los Angeles, hit the comedy-club circuit and soon appeared on the Johnny Carson and David Letterman shows. He heard from his pal, Dana Carvey, that SNL producers were looking for another cast member. After auditioning, he was hired and from 1986-1995, he anchored the Weekend Update and created the muscular fitness experts "Hans and Franz" with Carvey.
Nealon made his film debut in the 1987 romantic comedy, "Roxanne," with Steve Martin and has starred in more than two dozen comedies, including "Happy Gilmore," "The Wedding Singer," "Anger Management," "Daddy Day Care," "Grandma's Boy," "Just Go With It" and "Blended" with Adam Sandler and Drew Barrymore.
"Nealon created and hosts Hiking with Kevin, which has released more than 100 episodes on YouTube," Deadine wrote, noting his guests have included "Adam Sandler, Conan O'Brien, Caitlyn Jenner, Lin-Manuel Miranda, Tiffany Haddish and Courteney Cox, many of whom are expected to re-appear in the scripted version on TBS."
In his show, he hikes in Temescal Canyon, on trails in Hollywood and in Malibu, such as Solstice and Corral Canyon. Accompanied by a celebrity guest, a GoPro camera on a selfie-stick, the two talk and walk, surrounded by beautiful scenery.
Executive producing the television adaptation alongside Nealon and Zuker are Marc Gurvitz, George Heller and Seth Jacobs (via Brillstein Entertainment Partners).