By BERNICE FOX
There's lots going on with some current and former Palisadians in the entertainment business, on-screen and off.
Here's a brief look.
JULIA LOUIS-DREYFUS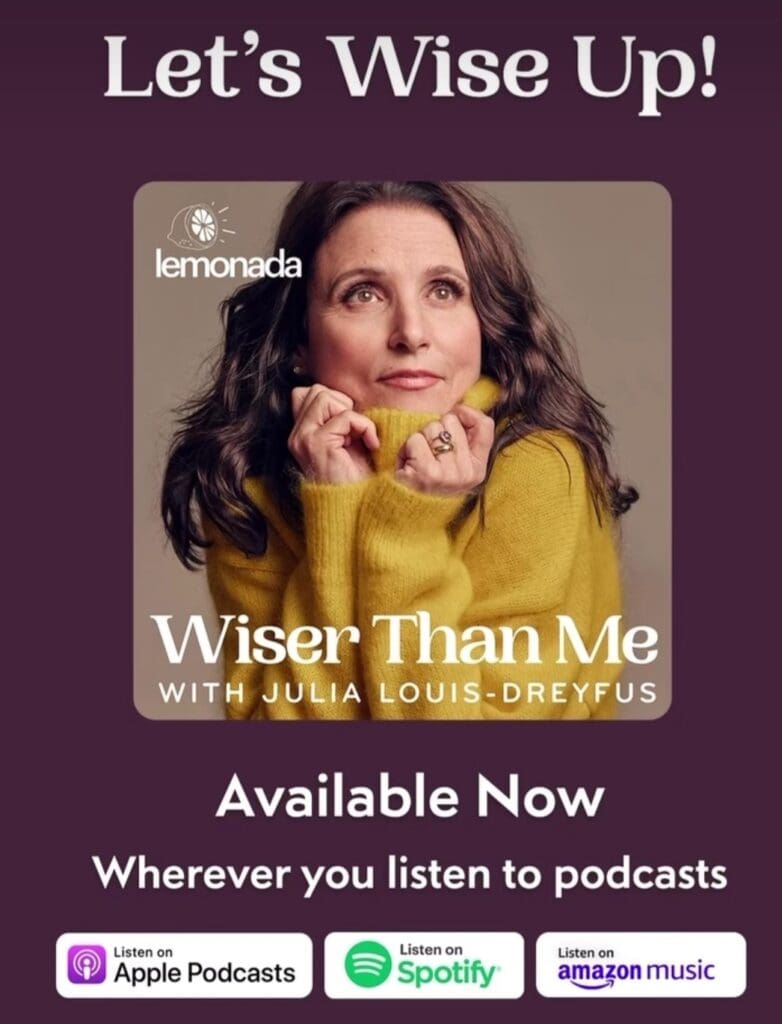 Julia Louis-Dreyfus has entered the world of podcasting. She's the host of a new podcast that she's named, Wiser Than Me.
A longtime Palisadian, Louis-Dreyfus explains "each week I'm going to get schooled by women who are older and much wiser than me."
She says she thinks "older women are an untapped natural resource in our culture."
She describes the podcasts as "funny, touching, personal conversations with unforgettable women."
Wiser Than Me began April 11 with episodes that include Jane Fonda and Isabel Allende. Future episodes feature Diane von Furstenberg, Amy Tan, Fran Lebowitz and many others.
Wiser Than Me is available wherever podcasts are posted and at this website: click here.
TOM HANKS
The next time you see Palisades resident Tom Hanks on a TV talk show, he probably will be appearing as Tom Hanks, the author.
He's written his second book, his first novel. It's set in a world he knows well with the title, The Making of Another Major Motion Picture Masterpiece.
It's described by the publisher as a "funny, touching, and wonderfully thought-provoking" novel about the making of a "star-studded, multimillion-dollar superhero action film…and the humble comic books that inspired it."
Hanks' first book was a compilation of his short stories called Uncommon Type. These earlier stories are about people and their situations. Hanks' personal love of typewriters plays into each story.
The Making of Another Major Motion Picture Masterpiece will be available starting May 9.
To support his new book, Hanks will be touring the country, talking about it in front of audiences in auditoriums and theaters. In Los Angeles, he's scheduled to be at the Wilshire Ebell Theatre on May 15 as part of the Writers Bloc Presents series click here.
JENNIFER GARNER, REESE WITHERSPOON
Former Palisadians Reese Witherspoon and Jennifer Garner are on a project together. With Witherspoon and Garner among the producers, Garner stars in a new drama series based on the bestseller, The Last Thing He Told Me.
Witherspoon had picked the novel for her book club and her company bought the rights for the screen.
In The Last Thing He Told Me, Garner plays a wife searching for her vanished husband.
The show is on AppleTV+ starting Friday, April 14.
BILL HADER
Barry, Bill Hader's comedy–drama about a hitman who would rather be an actor, starts its fourth and final season Sunday, April 16, on HBO.
This season Barry finds himself in prison. If you haven't followed along, we will not say why. In its publicity material, HBO says Barry is "ready for his breakout role."
Hmm. He's in prison. So, what could that mean?
Barry has brought Palisadian Hader several Emmys for his acting, directing and writing.
LARRY DAVID
When the cast and crew of Larry David's Curb Your Enthusiasm recently wrapped up filming the show's 12th season, there was a combination of happiness and sadness.
Many had the sense this would be the final season. But with Larry David – a longtime Palisades resident – you never know.
David has said in the past that if he can come up with a worthwhile idea for another season, HBO would be open to it.
Because of that, there sometimes are gaps of several years between seasons of Curb Your Enthusiasm.
HBO has not announced the premiere date for Season 12.
HILARY SWANK
Former Swarthmore Avenue resident Hilary Swank is a mother at 48. Days ago she gave birth to twins, a boy and a girl.
On her Instagram page, Swank posted a sunset photo of her holding her new son and daughter. She wrote "It wasn't easy. But boy (and girl!) was it worth it. Happy Easter! Posting from pure Heaven."
Swank and her husband, Philip Schneider, who's not in the entertainment business, were married in 2018.