Michael Sobie will be performing "The Music of Elton John," in a special benefit concert at Mercer Hall at Palisades High School on Sunday, January 29 at 7 p.m. Tickets are $5 and can be purchased through go.palihigh.org/gofan.
PaliHi's Theater for Change is sponsoring the benefit concert and students will donate the money to help fund a school and medical clinic in Mapapa, Zambia.
Sobie is the pianist and conductor for Ramin Djawadi's Reminiscence score.
He was selected by Djawadi to conduct the Game of Thrones Live Concert Experience, having previously worked with the composer as keyboardist and assistant conductor of three prior GoT tours.
The soundtrack to Netflix's Locke and Key also features Michael's playing in seasons two and three.
Sobie's additional screen credits include Amazing Stories (Apple TV), A Wrinkle in Time (Disney), The Mountain Between Us (20th Century FOX), A Christmas Story: Live (FOX), Too Funny to Fail (Hulu), John Piscitello's score for Memory Games, and Noah Baumbach's Oscar-winning Marriage Story (Netflix).
Sobie has toured the United States and the world as a pianist and conductor of Broadway musicals Wicked, Les Miserables, Altar Boyz, Aida, and Xanadu. Other TV credits include Grace and Frankie (Netflix), Why Women Kill (CBS), and Alter Ego (Fox).
He has worked with Ariana Grande, Scarlett Johansson, Joely Fisher, Carole Cook, Bruce Vilanch, Cole Escola, Il Divo, and the Los Angeles Ballet, with which he performed the iconic celeste solo for their production of Tchaikovsky's The Nutcracker.
PaliHi's Theater for Change was founded by Madison Levitt in 2018 to fundraise to help the less fortunate. The last few years, Covid restrictions have made it a struggle for students to host projects.
Last year, Nicole Chang and Marley Blanchard became co-presidents and Riley Stoler vice president. All are active in the drama department.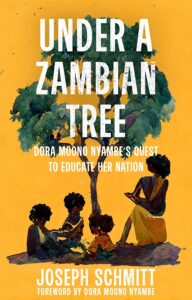 "We were looking for organizations to help support and fundraise for and found out about this project after reading Under Zambian Tree about Dora Moono Nyambe," Blanchard said. :We were intrigued by the touching work she has done and wanted to contribute."
Blanchard said it will cost $500,000 to build the school and medical clinic, but "we wanted to help in any way we could."
The book, "Under a Zambian Tree," was written by Joseph Schmitt, by an American researcher living in Zambia, and will be released February 7.
The story is about one woman, Dora Moono Nyambe's (Teacher Dora) quest to educate rural village children and prevent child marriages.
"Each of us, regardless of our race, gender, or background, can make an incredible difference," Teacher Dora said. "We must simply have faith in ourselves and let kindness lead our way."