EISENSTOCK'S SELECTS:
Writer Alan Eisenstock, who has done a weekly themed playlist for the past two years, is on vacation and was asked what was on his reading list this summer.
Great Circle by Maggie Shipstead, is a New York Times Bestseller, which details the rescue in 1914 of twins Marian and Jamie Graves from a sinking ocean liner. They are sent to Missoula, Montana to be raised by an uncle. After witnessing a pair of barnstorming pilots, Marian begins her lifelong love affair with flight.
Montauk by Max Frisch is a an autobiographical novel, first published in 1975, of the renowned Swiss author in his early 60s, who relates a short affair with a young American that illuminates a lifetime of relationships.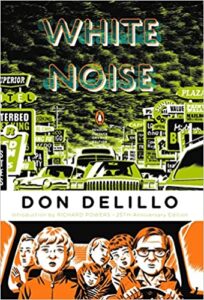 White Noise, the eighth novel by Don DeLillo, was published in 1985 and won the U.S. National Book award for fiction. Jack Gladney is the creator and chairman of Hitler studies at the College-on-the-Hill. This is the story of his absurd life; a life that is going well enough, until a chemical spill from a rail car releases an 'Airborne Toxic Event' and Jack is forced to confront his biggest fear – his own mortality.
If you want other interesting reads, Eisenstock, who is also a writer, has helped pen, Fierce Love, with Sonya Curry, the mom of NBA Legend Stephen Curry. Among other books that Eisenstock has cowritten is Redeeming Justice with Jarrett Adams. It was named the best book of September 2021 by Amazon.
BRUNS IS READING:
Long-time Palisadian-Post Editor, and now advisor to Circling the News, Bill Bruns reported, "My wife and I, after 50 years in the same house on Fiske Street, are paring down our various bookshelves. So before parting with some of these books, I'm currently speed reading three of them."
Son of the Rough South: An Uncivil Memoir (2005) by Karl Fleming, the legendary civil rights reporter for Newsweek throughout the 1960s.
Sweet Thunder: The Life & Times of Sugar Ray Robinson (2009), by Wil Haygood, who writes about one of the most iconic figures in boxing history.
Jim Murray: An Autobiography (1993), by the late, great sports columnist at the L.A. Times. Turns out he actually lived in Pacific Palisades when he worked for Time, Inc. in the early 1950s, prior to buying a house at Point Dume that he later sold to Bob Dylan.
CTN EDITOR'S PICKS:
Rumpole of the Bailey by John Mortimer. A fan of mysteries, I had never picked up a Rumpole book until this summer. There are 12 and they formed the basis for the PBS-TV series Rumpole of the Bailey.  It was light, lovely reading with humor that follows the character of the aging barrister.
In a Dark Dark Wood by Ruth Ware,  is a book I found in the Friends of the Library bookstore for a dollar. It was Ware's first novel, but a page-turner about a "hen" (bachelorette) party gone wrong. I ordered her next book  The Woman in Cabin 10 from the library. And now I'm making my way through her novels, which have been called "superb suspense."
This spring, on my son's recommendation, I finished Moby Dick by Herman Melville and the Count of Monte Cristo by Alexandre Dumas. Moby Dick made me laugh, there are so many funny lines in the book.
I had never read the Count nor saw the movie. The book was based on a real-life case of wrongful imprisonment and was hard to take – until fairness prevails.
Eisenstock, Bruns and I all have Pacific Palisades' Ron Shelton's book The Church of Baseball: The Making of Bull Durham on our lists.
(Editor's note: books can be ordered through the Palisades Library. Or if you're desperate for a read and don't want to wait, go the Friends of the Library bookstore at the Library. They have hardcovers and paperbacks, and most are generally under $5.
Another option in town is to visit Jeff Ridgway at Collections Antiques and Books on Antioch. Ridgway has an interesting collection of books, and he is the person who started me on the Rumpole series. If you want or need a book quickly, he is happy to order it for you. He was able to get me Jon Krakauer's Under the Banner of Heaven: A Story of Violent Faith and a copy of Ray Bradbury's Death is a Lonely Business, which is set in Venice, California, in just a few days.)