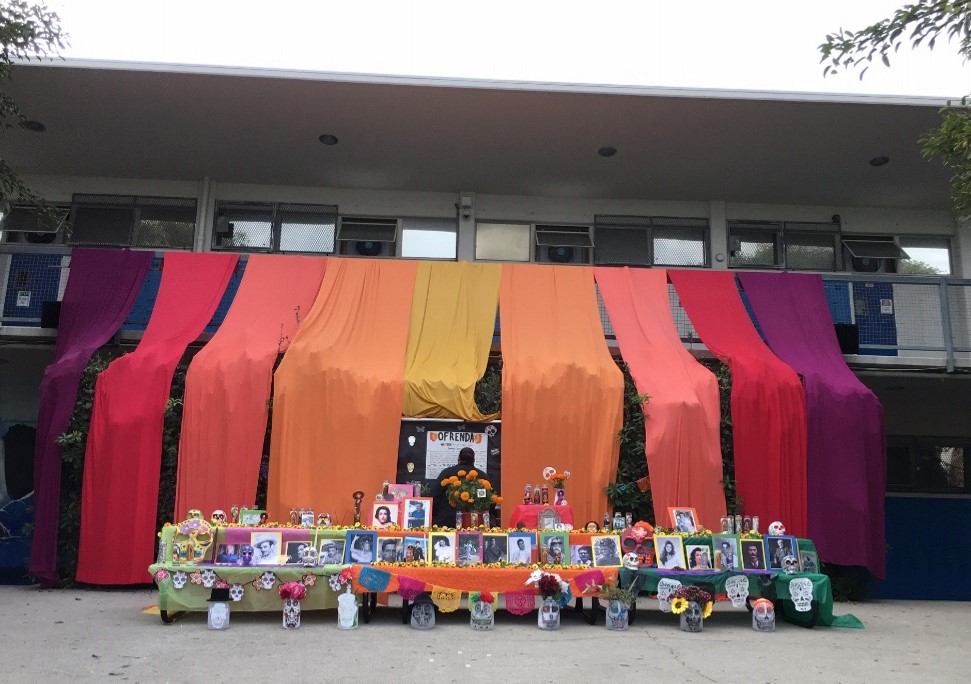 By ANGELICA PEREYA
Art Teacher, Palisades High School
The function of cultures all over the world is to help us navigate our lives.  Cultures change depending on geography and resources.  Mortality challenges our humanity in the most profound of ways. For this reason, every culture has developed various ways to deal with the grief process.
Dia de los Muertos (Day of the Dead) is a cultural practice rooted in ancient Aztec traditions from Mexico, now celebrated on November 2. It offers opportunities for families to honor, remember and pray for loved ones who have passed away. It is a solemn, respectful practice that makes space for sadness and absence along with the celebration of life and presence.
Contrast is a great way to see things more clearly. Perhaps, if we see things more clearly, we can understand them better and come back to our peace. Contrasting the solemnness of death with color, music, humor and celebration offers clarity and healing.
Fuerza Unida sponsored the Día de los Muertos event at Palisades High this week, in collaboration with the Latino Student Union, Visual and Performing Arts, and World Language students.
We used the iconic marigold, also known to the Aztecs as "Cempazuchitl, the flower of 4,000 lives" (probably because of its many petals), that is popular at Día de los Muertos festivities.
Over 3,000 tissue paper Cempazuchitl flowers were fabricated by more than 500 students commuting to us from over 100 Los Angeles zip codes. We wanted to experiment and see if we could take a flower-making practice perceived as craft and turn it into one that is perceived as 3-dimensional installation art.
The event successfully marked the culturally rich festivities on our campus and was synchronized with several festivities around Los Angeles.
Some years ago, the Los Angeles County Museum of Art (LACMA) acquired on loan an architectural piece by Jesus Rafael Soto. The yellow hanging strands are so inviting and fun to walk through, it really transforms your experience of the space and presence in the best of ways. We thought we could bring some of that to Pali and use it as our inspiration.
Our strands hung from a tree instead of a square metal frame. We replaced Soto's sun-catching yellow tubing with butcher paper stems and let stylized tissue paper marigold flowers catch the light.
Walking through this transformed space allowed us to be present in a new way and perhaps even more fortified to navigate our challenges.