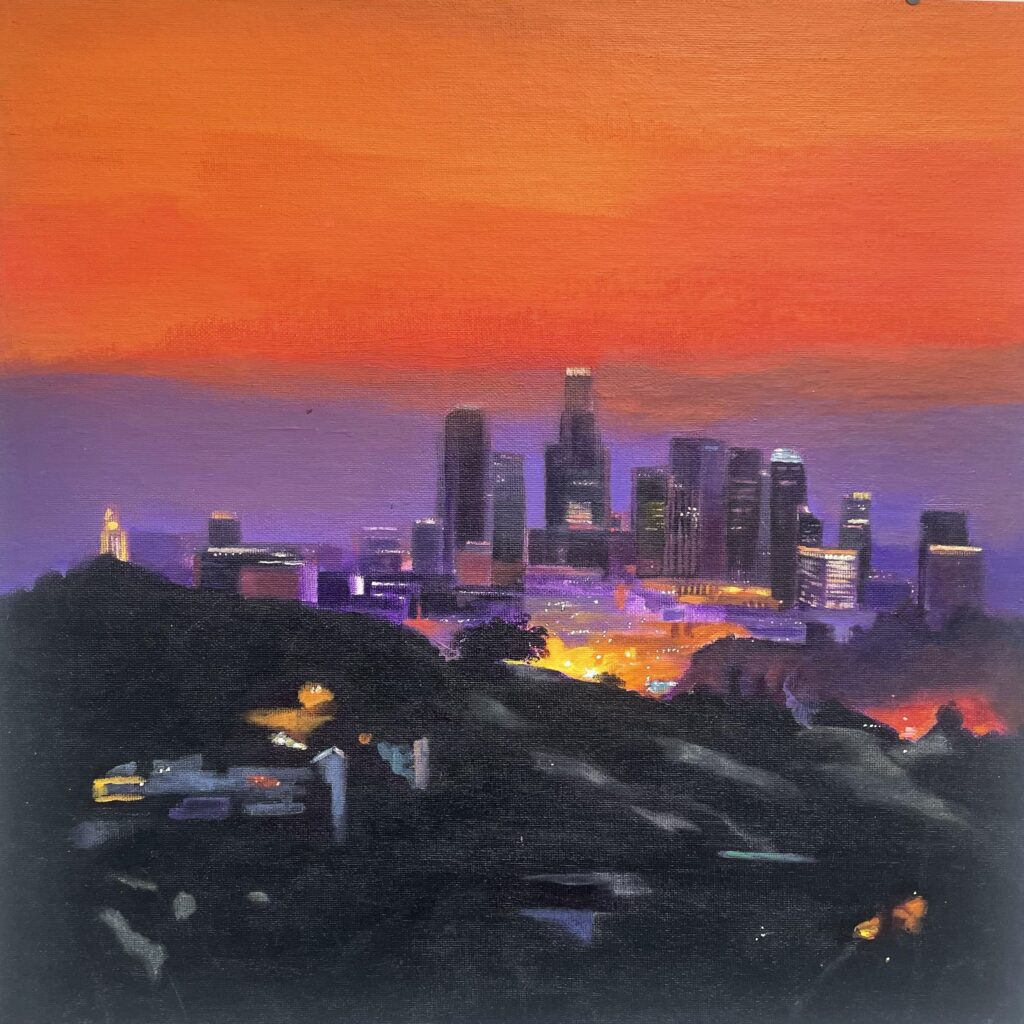 PHOTOS and STORY by LAUREL BUSBY
Artist David Askew's life disintegrated into a haze of drugs, alcohol, and homelessness when he moved from Chicago to Los Angeles in 2000.
For 12 years, he struggled.
"I had created havoc in my life; everything was in crumbles," he said. But eventually, "I had to think to myself, 'What am I doing with my life?' I came to a point where I told myself, you need to change this." An intensely spiritual person, Askew heard God tell him, "This is not your final destination."
This experience in 2010 led him to make a huge shift. Within two weeks, he had checked into a rehabilitation facility, Midnight Mission, and stayed there for two years while he reorganized his life. He attended meetings with others working to overcome addictions and also spent time at church, a comforting place to him as both his grandfather and uncles were pastors, while his mother was an evangelical Christian.
He began to make helpful contacts, including a judge, Craig Mitchell, who suggested they go on a run together. Askew, who had never participated in sports previously, ran six miles on their first outing, and Mitchell was so inspired that he started a running club at the mission, which burgeoned into a group that ran marathons.
Askew completed his first, the L.A. Marathon, in 2012.
"When I got to the finish line, I was so overwhelmed with joy," he said. "I thought, 'Wow, you ran 26 miles. You can do anything.' So that's my mindset now."
The group eventually ran several marathons around the world, including in Ghana, Egypt, Vietnam, and Israel. Documentary filmmakers became intrigued and made a film about their endeavor.
Simultaneously, Askew had been reawakening his love of art. Since childhood, he had enjoyed drawing, but in 2011, he began learning to paint, eventually experimenting with a variety of styles, including abstract art, portraits of jazz and popular musicians, and more personal work featuring people like himself facing extreme poverty.
In 2012, Janet Kerr, vice chancellor at Pepperdine University, came upon his artwork at a microenterprise class she orchestrated and was impressed by it. She connected him with people who could aid his new career and also provided an emotional support as he worked through various challenges.
"I really appreciate her," he said. "She's been a huge factor in helping me move this in the right direction."
His paintings often tell a story, sometimes about life on the streets, and offer both insight and connection with their subjects. A May 12 exhibition at the Santa Monica Canyon Gallery 169 drew an appreciative crowd for his vivid acrylic work, resulting in a number of sales, and the gallery extended the show through May 28. Askew will be there every weekday from 11-4, while the weekends will be open by appointment only. (Contact franklangen@mac.com or (310) 963-3891 for more information.)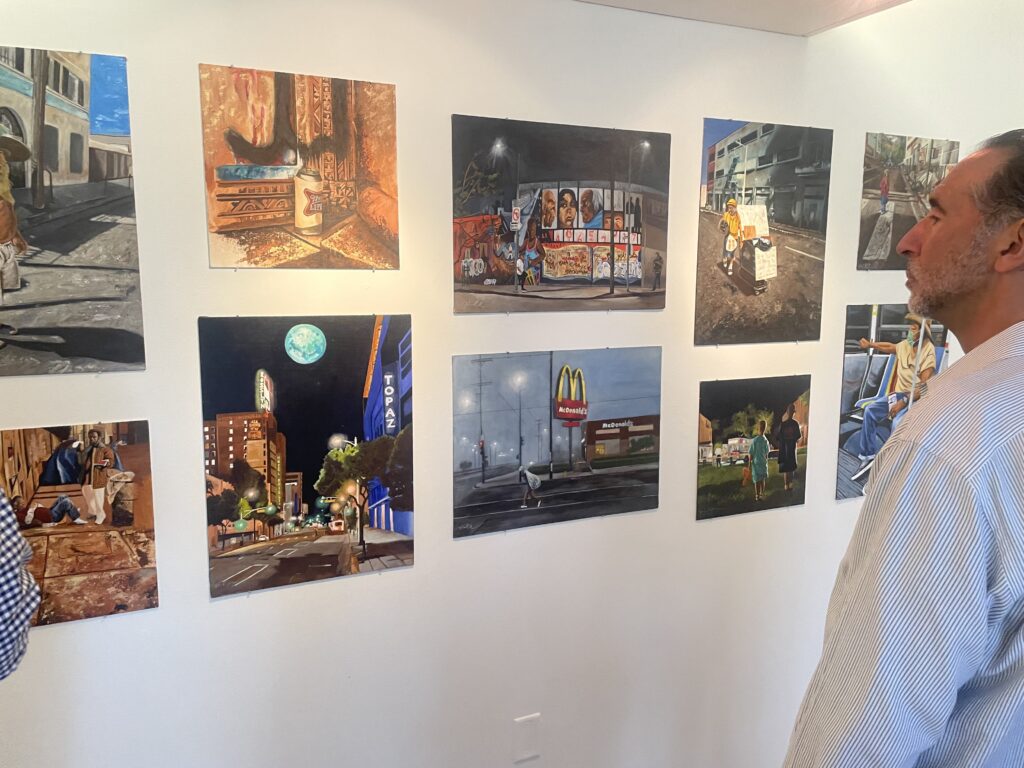 Doug Suisman, who lives in the canyon, was enchanted by Askew's artwork.
"It's inspiring; he's got a lot of talent and a great sense of color," Suisman said. "He's portraying a part of the city that people sometimes avoid seeing and making art out of it, finding the humanity in the difficult parts of Los Angeles."
These challenging places and situations are also still entwined with Askew's life. He found his way out of homelessness in 2012, working first for Americorps, where he helped people who were struggling with addiction, alcoholism, and homelessness, and then as the property manager of a transitional home. But in 2017, he encountered a painful breakup, and he again fell into homelessness.
"I lost everything," Askew, 54, said. "One day, I was sitting in my car, selling paintings to keep the car note up. I told myself, 'You're back in this situation. You have two choices. You can either swim or drown.' I decided I'm not going back to what I used to be."
But the journey back is slow. He currently lives in a shelter in Santa Monica and is saving money to get his own place. Part of that path includes his gallery show, which offered his abstract and musician portraits ranged in price from $500 to $2,400, although the ten pieces that drew power from his personal travails were not priced.
"Those paintings represent a part of me and the things that I've worked through in my life," said Askew, who fielded requests to price them during the event. "I didn't paint those with the mindset that these are going to look great in someone's home. I was in a dark place in my life. I experienced those things. I did sell two of them. They are going somewhere where I feel they will be cherished, but there are a few that I couldn't part with."
His other works also have a strong power and allure. The studies of musicians capture both the flavor of the music and the emotional worlds of the artists, while the abstract art allows him to "play," using an appealing blend of colors and shapes.
Yet, the more personal pieces have a unique and tender pull. Their warmth invites the viewer to lean closer and enter the world of the featured individuals for a moment. The feeling of human connection is clear.
"Those paintings are reality for me," Askew said. "By me sharing my story with others, I hope they'll be more aware of what might be going on with others…. It's good to have an open mind and be kind to people. We're all people. Some people, their bottoms are lower than others, but we're all still the same."