By BILL BRUNS
Circling the News Adviser
When Palisadian Alan Eisenstock is not researching and writing one of his nonfiction books (18 thus far!), he pursues what he calls "a crazy labor of love side project" that he started in mid-March: sending a weekly Covid-themed playlist of songs to his family and friends.
These 20-song playlists (which can be downloaded on Spotify) span rock 'n' roll and pop music from the 1950s to 2020, and Eisenstock adds one or two lines of commentary about each song that is clever, amusing and informative.
I've enjoyed receiving these enjoyable playlists for months and I finally realized: Why not expand Eisenstock's audience by publishing his playlists on Circling the News, which now reaches more than 1,520 subscribers?
Editor Sue Pascoe and Eisenstock agreed, and he has added a bit of background about his not-for-profit venture:
"For the playlists, I start with a theme, always something related to Covid or the times we're living in. The theme and the first 6-10 songs sort of happen simultaneously. Example: I thought, wow, thanks to Covid and other reasons, the post office is under siege. Hmm. Post office. "Please Mr. Postman," "Return to Sender," "The Letter," "Signed, Sealed, Delivered," "Take a Letter, Maria," "Sealed with a Kiss," and I was off. After I have at least a half dozen songs in my head, I'll go online and fill in the rest.
"I have one criterion," Eisenstock continued. "I have to really like the song. I don't want any filler. I want listeners to like the songs. Friends who get the lists have told me they play the playlist while they go for their exercise walks, workout at home, and clean their bathrooms. Also, Diesel Books regularly plays the lists in the background.
"The whole thing started back in March, a week or so after we started sheltering in place. I've always been a major music guy so for some reason, I sent off a short playlist to my kids and my family, and a couple of close friends. Gradually, people found out about it from the original group of a dozen or so and the list kept growing.
"Then my wife Bobbie said, 'I'd really like some context. I don't know some of these songs.' So, I started writing 'liner notes,' more for my own amusement and hers.
"To do the liner notes, I go online and Google stuff, so that I can give a fact or two about each song; sometimes I fool around and add my own take. I add Fact Check at the end of each playlist and admit what's fake news."
Eisenstock said, "I have always been into music. Had the radio blasting as a teenager, collected albums, listened all the time through college, sold, sadly, all my vinyl, bought thousands of CDs, most of which I still have. The house we bought in the Palisades, 20 years ago, has speakers in the ceiling of every room. I play music constantly.
"With the playlists, I focus mainly on 1950s-1970s, and some current stuff, but usually indie or alternative rock. A lot of R&B, Beatles, Stones, Tom Petty, Dylan, Joni Mitchell, Springsteen. I always try to find a Springsteen song. I do follow current songs, but not necessarily the 'popular' stuff. I never know any of the Grammy nominees. And before Covid, I still went to concerts. I've gone to a LOT of concerts."
Visit Eisenstock's website (alaneisenstock.com) to get in touch, buy one of his books, and/or see his prior playlists, which can all be downloaded on Spotify.
Alan Eisenstock's Playlist, Week 25:
New York. 9/11. Covid. "She always survives." Today we celebrate the city. But there are too many great "New York" songs for just one playlist. What to do? Idea. I'll do two, now and soon. This week, here are 20 songs about the streets and 'hoods of the city. Listen up!
"The Boy From New York City" The Ad Libs. Doo-wop group and one hit wonders from New Jersey. Maybe "The Boy From New Jersey" would've resulted in a better career?
"Tenth Avenue Freeze-Out" Bruce Springsteen. The story of the formation of the E-Street band. The Boss brings in the Big Man (Clarence Clemons) and he blows hard on this song.
"Spanish Harlem" Ben E. King. From 1960, Ben E's first hit away from the Drifters, written by Jerry Leiber and Phil Spector. Little known fact. Ben "E" is for "Eisenstock."
"Angel Of Harlem" U2. Band formed as teenagers at school in Dublin. This song is allegedly an homage to Billie Holiday. Bono, The Edge and I are in the same book club.
"On Broadway" The Drifters. 1963 hit written by Cynthia Weill, Barry Mann, Leiber & Stoller with that opening guitar solo by Phil Spector. Recorded after Ben E. left.
"Nights On Broadway" Bee Gees. Smash hit in 1975. Barry Gibb said the song came to him in a dream. Songwriting tip: write down your dreams.
"Uptown" The Crystals. NYC girl group from the mid-sixties, another Weill & Mann song, produced by Phil Spector, employing his Wall of Sound.
"Downtown" Petula Clark. British singer, born Sally Clark, still going strong at age 87. We share the same birthday. She's older.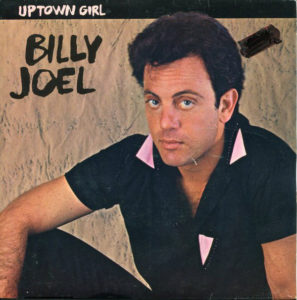 9."Uptown Girl" Billy Joel. Song about a blue-collar guy trying to woo an out of reach uptown girl. Yeah, like the Piano Man, living in his castle in the Hamptons is blue collar.
"Downtown Train" Everything But The Girl. Musical duo and married couple Tracey Thorn and Bett Watt sing this Tom Waits song. I LOVE this song.
"Chelsea Morning" Joni Mitchell. A song she wrote in 1969 about her apartment in the Chelsea neighborhood. Simply, she's one of our greatest songwriters.
"The Queen Of Lower Chelsea" The Gaslight Anthem. Brian Fallon leads this band from New Brunswick, NJ. They've been on a 10-year hiatus but you have to know this band.
"Chelsea Hotel #2" Leonard Cohen. His hotel room number? Song is about his fling with Janis Joplin who supposedly mistook him for Kris Kristofferson. Lennie didn't correct her. Cover the kids' ears.
"Bleecker Street" Simon & Garfunkel. Paul wrote this about the sixties folk scene in Greenwich Village. Originally, Paul and Art called themselves Tom and Jerry.
"Positively 4th Street" Bob Dylan. Great Song that I'm saying is about 4th Street in NY even though Dylan never mentions "4th Street" in the song. He probably just forgot.
"I And Love And You" The Avett Brothers. From North Carolina, one of my favorite bands. Song produced by Rick Rubin. "Brooklyn, Brooklyn take me in…." Great.
"One More Night in Brooklyn" Justin Townes Earle. Son of Steve, tragically passed away a week or so ago at age 38. He recorded 8 albums. Love this song.
"Strawberry Fields Forever" The Beatles. John Lennon said this is his favorite Beatles' song, from "Magical Mystery Tour," written about a Salvation Army home in Britain. After John's death, NYC dedicated an area of Central Park as Strawberry Fields, across from where John lived.
"New York" St. Vincent. Real name: Anne Erin Clark, started as a member of Polyphonic Spree. Love this song. Cover the kids' ears.
"New York City" Lenny Kravitz. NY funk-rocker. Lisa Bonet's ex, Zoe Kravitz's dad, Al Roker's cousin. "I love New York City. She's lived and died so many times, but she is fine. She always survives."
Wow! And this is only Part One. Some advice: Don't Forget to Disinfect and… PLAY IT LOUD!
The link again:
https://open.spotify.com/playlist/7EsfYRf16BGTxC1kvs0lcZ?si=u12Zi443RqWVqf7yLt0uow
Fact Check:
–Ben "E" King. The "E" stands for "Earl."
–Bono, The Edge and I are not in the same book club. I'm not in a book club, or any club.
–Petula Clark and I do share the same birthday. She's much older and has a slightly better singing voice.