Although there were rumors that Pacific Palisades Honorary Mayors Billy and Janice Crystal might not participate in a peaceful transfer of power to new Mayor Eugene Levy, the fears were unfounded.
"This is the first peaceful transition of nonpower," Billy told Levy as the Crystals held a Zoom inauguration Tuesday night. "We would have left you the usual transition letter in the mayor's desk, but there was no desk."
"As our final act, we issue pardons to everybody," Billy said, "except the morons who ride motorcycles on Sunset on Wednesday night."
The Crystals, who served two years, gave Levy a few warnings about his new job, such as don't shout out "Wrong!" when a child misspells a word at the town's annual spelling bee. And "Don't run to the head of the vaccine line, shouting 'mayor coming through, mayor coming through — I have an Emmy,'" Janice said.
Billy advised, "Zoom meetings go much faster if you're the host and you mute everyone else."
The Crystals said they looked back at their accomplishments with pride, such as the peace treaty they worked out with Brentwood and demanding a 3:30 p.m. early-bird special at Giorgio's in Santa Monica Canyon.
"I know this job can be intimidating," Billy said, noting that Levy has big "Crocs" to fill, but "with great power comes great responsibility."
"Billy, that's from 'Spiderman,'" Janice said. "Being like 'Spiderman' is nothing like being mayor."
"Both are fictional jobs," Billy said, noting that "tomorrow we are breaking ground on the mayoral library."
Then Sam Lagana, who served as emcee for the 45-minute event, introduced former honorary mayor Martin Short.
"I have nothing other than prepared text," Short said. "It is a thrill to be part of this ceremony – actually, it's an utter obligation.
"When I think of you Eugene, and it's not often, you are like family. We often have dinner and sit in utter and complete silence."
"I could go on and on," Short continued. "I have four pages here." But he cut it short and summed up: "Eugene is one of the great human beings, one of the kindest people and one of the funniest and most brilliant people I've ever worked with."
Short said he was the honorary mayor after John Raitt and was followed by Anthony Hopkins. "This is an amazing alumni, Jerry Lewis, Vivian Vance . . .  and so I'm just saying for Eugene to be the mayor, we are a lucky, lucky community."
Councilman Mike Bonin swore in Levy and said, "We will be at a lot of events together. You will always go first and be the funny one and then I'll follow you and be the boring stiff who will always make you look good."
He said, "The Crystals were phenomenal at playing that role."
Then Bonin told Levy, "The secret" to being a successful honorary mayor "is just blame the councilman."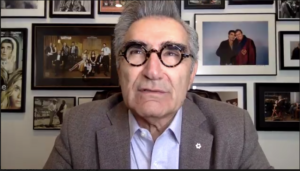 Levy, one of the stars of the popular TV series "Schitt's Creek," said, "Being an honorary mayor is one of the biggest honorary honors that I've had in my young life. Looking at the list of past honorary mayors, I know I have big shoes to fill—not from Marty, he can't be more than a size 7."
"I will take this job as seriously as I can and for those who know me, they know that doesn't necessarily bode well for the Palisades."
Levy noted that during the Crystals' tenure, a new town center was constructed by a Brentwood developer. "That's what I call making a contribution," he said. "I have left several messages with Rick Caruso—I have some ideas: think Dubai."
He pointed out that he and the new first lady, Deb, were relatively new Palisadians, having lived here only 14 years.
"In my capacity as honorary mayor I want to help unify the town—this is a divided community," Levy said. "Much like the country, there are two factions here that do not see eye to eye. On the one hand there are those who love the new town square that Rick Caruso put up – and on the other there are those who would prefer Swarthmore the way it was, vacant storefronts and foreclosures and evenings in dark desolate streets with no humanity.
"Both valid [views]," said Levy, who in addition to unifying the town, is looking forward to riding in the Fourth of July parade.
He concluded his inauguration speech, "The time for words is done and it's time to roll up my sleeves, get in a few rounds of golf, put some focus back on my career and spend some time thinking about this job at hand."
When the Crystals heard Mayor Levy's plan to bridge the warring Carusoville factions in Pacific Palisades, Janice said, "I hope that Eugene brings back the kilt store."
On a more serious note, Billy thanked the Chamber of Commerce and the town for the opportunity the couple had the past two years. "We really had a good time," he said, and he urged Levy to attend as many events as possible, because not only is it a way to connect to the community, but also "it makes people feel good when you show up for things."
Chamber of Commerce President Bob Benton announced that the Brentwood Community Council has named Catherine O'Hara as honorary mayor of Brentwood. O'Hara is Levy's co-star in Schitt's Creek.
"That is something. I will call her to congratulate her—and we'll take out our Canadian flags and have a celebration," said Levy, who hails from Toronto. In addition to playing the father, Johnny Rose, in "Schitt's Creek" for six seasons, he has also had roles/appeared in shows with Martin Short and Billy Crystal.
Emcee Lagana also introduced Sarah Knauer, a realtor at Amalfi Estates, who is starting the second year of her term as chairwoman of the Chamber of Commerce board.
The Chamber has sponsored the honorary mayor position since 1951, when Virginia Bruce accepted one of the most important roles of her career.