The Pacific Palisades Community Council met via Zoom on March 9, and sent a letter to support DWP's efforts to receive water from Mono Lake.
The group also heard from Los Angeles 311 Director Donna Arrechea.
LETTER  SUPPORTING DWP VS. ENVIROMENTAL GROUPS:
The Los Angeles Department of Water and Power, at the March 9 meeting, asked this community to support its efforts to continue receive water from Mono Lake.
The DWP representative Clint Kautsky told the group via Zoom that "There's no emergency at Mono Lake." He warned that DWP needed letters from residents to the state water board to support its position.
The PPCC voted to send a letter in favor of DWP.
There was no one at the meeting to present to present an alternate viewpoint to DWP's, such as the Mono Lake Committee or the Mono Lake Kutzadika'a Tribe. (Editor's note: See Mono Lake story. If after you read the story, and you would like to send a letter to the State Water Board, they are being accepted until March 16 (visit: https://www.monolake.org/takeaction2023).
ARRECHEA DISCUSSES 311: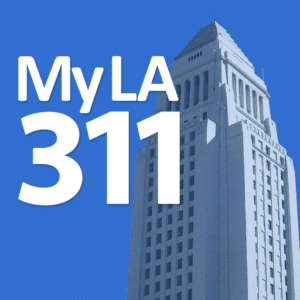 The director of LA 311, Donna Arrechea, spoke at the March 9 meeting and urged all residents to add the MyLA311 app to their phone.
"We're really proud of it," she said, noting that it will make it easier for residents to report problems to the City.
The app and 311 will give residents access to someone in the City from 7 a.m. to 7 p.m. Monday through Friday and 8 a.m. to 4:45 p.m. on weekends and holidays.
A resident can report dumping or trash collection issues, bulky item pickups, potholes, graffiti, street light problems and parking enforcement.
Arrechea warned that "wire thefts is a major problem in Los Angeles," so that it could take up to a few months to have street lamp lighting replaced because of the number of requests."
She also clarified if it is a wooden power pole that has the street light issue, "that is serviced by DWP" and not the city.
Arrechea said, "Sidewalk repair has a seven-year wait list."
There is an effort to add "traffic" in the near future to the app, so that people can report traffic lights that may be out.
She was asked what people do if there is no reportable address for the problem, such as when bulky items are placed along Temescal Canyon Road below Palisades High School.
"Give the nearest intersection," which in this case would be Bowdoin Street and Temescal Canyon Road, and then "add more in the description," maybe writing, "the bulky item is below the high school on the downside of Temescal Canyon Road."
If there is something in an alley, for example, give the street address of the place in front, but in the description add "it is in the alley behind the house at this address."
She was asked what happens if someone receives a notice that a 311 report is closed. There could be several reasons for it, she said, which could include someone else has already reported it; it may be a county or different agency that is responsible and the request needed to be redirected (the City does not maintain all of the parks in its boundaries, some fall to county or state agencies), but "call us if it is closed and maybe we can provide more information."
Arrechea emphasized that people should provide an email, so they can get a status report.