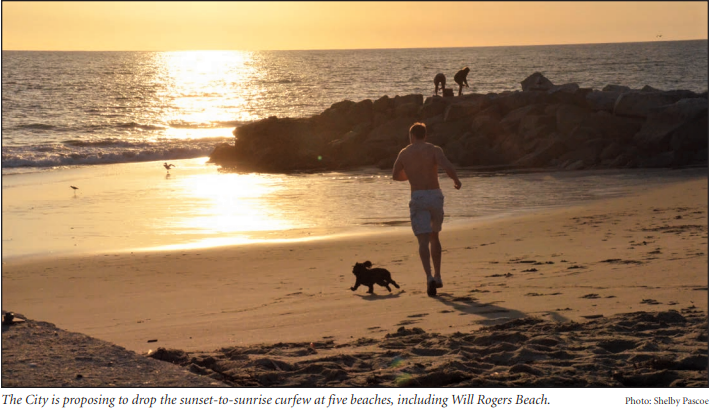 The Issue: Lifting the Existing Beach Curfew
Community activist Lucy Han (Friends of the Jungle) alerted Circling the News today that City Attorney Mike Feuer is having a closed meeting tomorrow, August 29, at 2:30 p.m. at City Hall with LAPD Division Captains to discuss lifting the existing beach curfew, which is midnight until 5 a.m., in Pacific Palisades.
Han, in an August 28 email to CTN, wrote that Deputy City Attorney Amy Brothers "sent the 'closed' meeting notice to 'remove' the beach curfew in Playa Del Rey, Pacific Palisades and San Pedro." She added, "Brothers is also the same attorney tasked to 'defend' the beach curfew."
Han argues that this is clearly a conflict of interest and provided CTN with an August 23 email from Brothers that said, "As you know Deputy City Attorney Oscar Madellin and I are assigned to the beach curfew issue. More specifically, DCA Medellin and I are tasked with defending the City's beach curfew at Coastal Commission."
Han told Circling the News that, "The Councilmen (Bonin, Buscaino) of the affected beaches were not invited but have since become aware of this 'closed' meeting. CD11 Chief of Staff Chad Molnar (213-473-7011, chad.molnar@lacity.org) and CD15 Deputy Chief of Staff Jacob Haik (310-732-4515, jacob.haik@lacity.org) will attend. Both Councilmen will not support any deal that lifts the curfew."
The City Attorney tried to lift the curfew in February 2018 without public knowledge, but at that time Councilman Mike Bonin stopped it. A story about the lifting of the curfew ran in the former Palisades News on February 21, 2018.
Basically, a 10-ft.-wide strip would be opened at the location to allow 24-hour access to the wet sand area next to the water. Back then, this reporter asked if beach bathrooms would be open, if lifeguards would be on duty and if the parking lot would be open, but I never received a response from Recreation and Park's Environmental Supervisor Paul Davis.
A December 2015 lawsuit challenged the City's right to impose a nightly curfew on beaches. The lawsuit, brought by Jataun Valentine and Francesca de la Rosa, alleged that the City had refused to obtain a Coastal Development Permit from the California Coastal Commission for the 1988 ordinance that closes 11 miles of coastline from midnight to 5 a.m.
The plaintiffs argued that the curfew law–LAMC 63.44(B)(14)(b)–was a development under California Public Resources Code Section 30106 (a), and because of the Coastal Act it meant the City needed to obtain a Coastal Development Permit.
According to Han, State law says beaches are meant to be open to everybody 24/7, 365 days a year.
When lifting the curfew was proposed in 2018, Pacific Palisades Community Council Vice President George Wolfberg said, "If the state is requiring it, then they should pay for the additional law enforcement."
A City study stated there will be a "need for more police protection or emergency response services substantially beyond what is currently."
Han said that if the current curfew is lifted, most probably there will be an increase in theft, drugs, noise and panhandling and that it would encourage overnight encampments.
A petition against lifting the curfew has more than 2,800 names.
CD11 Chief of Staff Chad Molnar (213-473-7011 and  chad.molnar@lacity.org) and CD15 Deputy Chief of Staff Jacob Haik (310-732-4515 and jacob.haik@lacity.org) will attend tomorrow's meeting.  Email them with your concerns.
Also contact Brothers (213) 978-8069 or amy.brothers@lacity.org, Feurer's office (213) 978-8100 or mike.n.feuer@lacity.org and the California Coastal Commission Executive Director Jack Ainsworth (415) 904-5202 or john.ainsworth@coastal.ca.go.