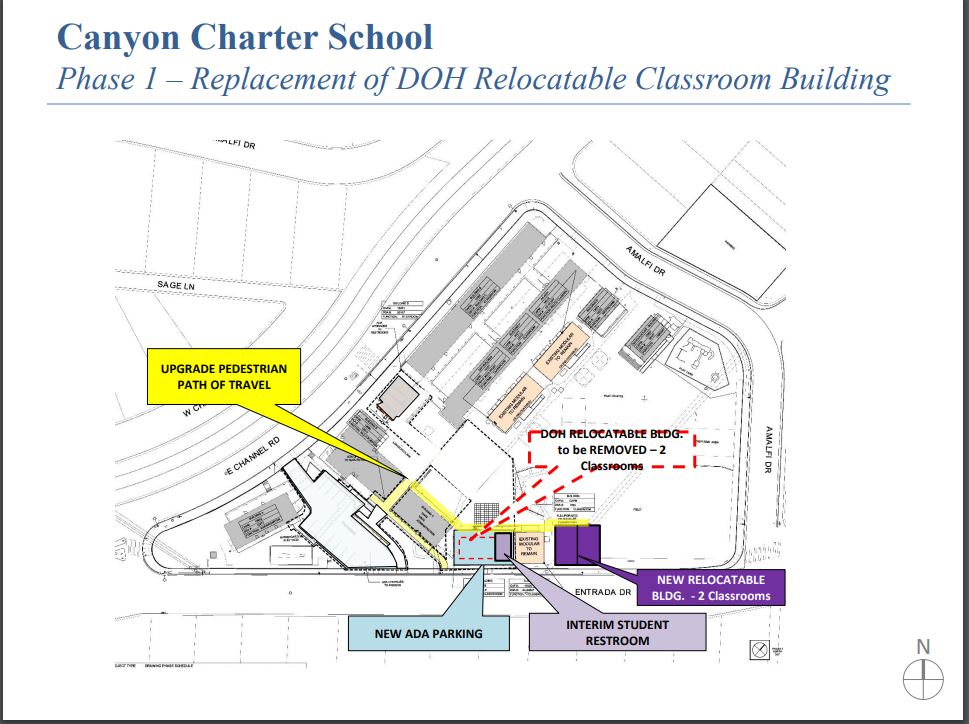 Residents, parents and staff of Canyon Charter Elementary School received a notice that LAUSD will begin work on the first phase of replacing Department of Housing (DOH) portable buildings on that campus.
Portable buildings were brought onto LAUSD campuses in the 1990s and 2000s to ease overcrowding but are no longer approved for classrooms.
In November 2017, LAUSD approved, per state requirements, that all relocatable classrooms purchased from DOH needed to be replaced.
At a meeting held in April 2019 at the Canyon Elementary auditorium, attendees were told that LAUSD has removed the portables from all but 16 campuses, and that included Canyon.
"We have to remove them and replace them immediately!" said LAUSD Senior Facilities Development Manager Scott Singletary about the two classrooms located next to the administration building.

Canyon, built in 1894, is one of the oldest elementary schools in Los Angeles. The original and historic one-room schoolhouse, which is still on campus, now serves as a library.
Singletary told attendees at the meeting that phase one of the two-phase project would start once environmental reports were completed and approved.
According to the recent notice, "This phase includes removal of a two-classroom Department of Housing (DOH) relocatable building along Entrada Drive and replacement with a certified two-classroom relocatable building, installation of a new restroom building, ADA upgrades including new accessible parking spaces, a new fire hydrant and removal of one tree."
The estimated cost for phase one and for phase two design is $5,425,456.
Phase two will involve construction of a two-story, seven-classroom building along Amalfi. The lower three classrooms will be for kindergarten and will include a separate playground. Next to it will be a one-story science building.
This is a one-to-one replacement and no extra students will be added to the campus. Funding and the final cost have yet to be identified.
Phase one construction is scheduled from June 2020 to March 2021. Work hours will be Monday through Friday from 7 a.m. to 7 p.m. and on Saturday from 8 a.m. to 6 p.m. (as needed).
Safety and mitigation measures include: 1) chain link fencing around entire project work area; 2) all workers background checked and cleared by the U.S. Department of Justice; 3) workers wearing safety vests with photo ID badges; 4) neighbor notification for major noise activity, such as audible fire alarm tests; 5) no construction noise after 7 p.m., no construction on Sunday.
At the 2019 meeting, Canyon fifth grade teacher and UTLA Representative Akimi Sujishi-Watson said, "This is a thoughtful plan, and what I'd like the community to remember is the teachers really want this to happen.
"The bungalows are noisy," she said. "We need to bring the kindergarten onto campus. We need to be closer together.
Questions about the project? Please visit: https://www.laschools.org/new-site/community-relations/ and click on project information, or call Ashley Mercado (213) 241-3922 or emailashley.mercado@lausd.net.