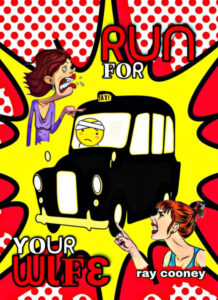 Thespians and aspiring thespians are sought for the upcoming Pacific Palisades Community Theater production of "Run for Your Wife," by playwright Ray Cooney.
The farce involves a taxi driver who gets away with having two wives in different areas of London—until he gets in an accident and contradictory personal information complicates matters.
Auditions will take place Monday and Tuesday, February 6 and 7 from 7 to 9 p.m. at Pierson Playhouse, 941 Temescal Canyon Road. Sides will be provided, and the farce requires actors to have a British accent.  (Visit: theatrepalisades.org)
Directed by Sherman Wayne, Rehearsals will begin on Monday, February 13, and the play will run Friday and Saturday nights and Sunday afternoons from March 31 through May 6.
Actors are sought to play:
John Smith (male, 30 to 50). A taxi driver who is hiding the fact that he has two wives.
Mary Smith (female, 30 to 50). One of John's wives.
Barbara Smith (female, 30 to 50). John's other loving wife.
Detective Troughton (male, 20 to 50). Loves his job and will go above and beyond to solve any case.
Detective Porterhouse (male, 30 to 50). Older police detective, more seasoned, bemused.
Stanley Gardner (male, 20 to 50). John's mooching neighbor and friend who is swept up in keeping John's secret.
Bobby Franklin (male, 20 to 50). Flamboyant, effeminate dress designer.