Editor's note: When Palisadian Alan Eisenstock is not researching and writing one of his nonfiction books (18 thus far!), he pursues what he calls "a crazy labor of love side project" that he started in March 2020: sending a weekly Covid-themed playlist of songs to his family and friends. These playlists (which can be downloaded on Spotify Link here span rock 'n' roll and pop music from the 1950s to 2020, and Eisenstock adds one or two lines of commentary about each song that is clever, amusing and informative.)
Hi, Everyone,
Welcome back, America!  Restaurants, bars, shops, and theaters are opening up, business as usual. So…are you ready to go out? I, for one, am not. I just don't feel comfortable. What to do? Idea. Here are 18 "going out" and "knocking on and open up your door" songs. Listen up!
"Yes, I'm Ready" Barbara Mason. R&B singer/songwriter from Philly who burst onto the scene with this big hit in 1965. Excellent and famous song. Me? I'm not ready.
"Come Go With Me" The Del-Vikings. Diverse doo-wop group formed by members of the U.S. Air Force stationed in Pittsburgh. In 1956, Clarence Quick, the group's bass singer, allegedly wrote this song in five minutes. DJ Barry Kaye recorded it in his basement.
"Who's That Knocking" The Genies. Formed in Long Beach, NY, the doo-wop group recorded this hit in 1959. One of The Genies became Don of the R&B duo Don and Juan.
"I Hear You Knocking" Fats Domino. New Orleans R&B great covers this Dave Bartholomew tune. As the Fat Man sings, "I hear you knockin' but you can't come in.' " My sentiments exactly.
"Knock On Wood" Eddie Floyd. Southern soul singer Floyd recorded and co-wrote this smash hit in 1966. Pretty much his only hit. Covered by Alvin and the Chipmunks on their classic album Chip Shot.
"Knock Three Times" Tony Orlando & Dawn. What a stupid song. But it's so natural for our "knock on your door, come out" theme. Dawn was made up of Telma Hopkins and Joyce Vincent Wilson. Telma was in the cast of Family Matters.
"My Doorbell" The White Stripes. Jack White and his former wife Meg White make up this band, with Meg on drums. This is from their blistering 2005 album Get Behind Me Satan.If knocking on the door won't work, try the doorbell!
"Let My Love Open The Door" Pete Townshend. Pete, formerly of The Who, goes solo with his spiritually-themed album Empty Glass. He released this as a single in 1980. I've noticed that after a few years, rock stars and prisoners often turn to religion.
"Open The Door" Otis Redding. "The King of Soul" aka "The Mad Man from Macon" wrote and belts this 1968 ballad. I once joined a Twitter challenge that said, "Change one letter of a phrase or title that totally alters its meaning." In this case, Otis becomes "The King of Soup."
"Going Out Tonight" Mary Chapin Carpenter. In our playlist narrative, our hero finally agrees, reluctantly, to go out! "Gonna… catch up with a long-lost face and talk about how long it's really been."
"Into The Great Wide Open" Tom Petty & The Heartbreakers. Again I say, one of our best and most underrated songwriters. Can't get enough of Tom. Johnny Depp stars in the music video from 1991. LOVE.
"I'm Coming Out" Diana Ross. Detroit born and raised, Ross left The Supremes in 1970 and embarked on a successful solo career. Bernard Edwards and Nile Rodgers from the group Chic wrote this disco-ey song for Diana in 1980.
"Is She Really Going Out With Him?" Joe Jackson. Brit and New Wave singer/songwriter hit it big with this in 1979, his very first release. Infectious and dance-worthy. This tune almost inspires me to go out.
"Take Me Out Of Town" Matt Berninger. Frontman of The National sings this killer song from his solo album Serpentine Prison. "Where are you? You said you'd be here any minute." Matt, I told you, I'm not going out. LOVE.
"Out In The Street" Bruce Springsteen. So, our young man, the narrator, has finally decided to go out. He's agreed to go "out on the street," from The Boss and his superlative album The River.
"Out On The Weekend" Neil Young. "See the lonely boy, out on the weekend." Neil Young sings of looking for love on this great song from 1972 and his album Harvest. LOVE.
"Let's Spend The Night Together" The Rolling Stones. So, our reluctant narrator has gone from refusing to answer the knocking at his door to going out to spending the night together. This guy has no willpower.
"Keep Your Distance" Richard Thompson. The man himself, British guitar lord and songwriter supreme, RT sings the song that every pandemic playlist curator included in his or her first COVID-themed list. Or should have. In this case, go out, if you must, and "Keep your distance, it's a desperate game we play!"
May I say, modestly, what a playlist! Eighteen "knocking on doors," and "going out songs." Some advice.
Don't Forget to Disinfect and… PLAY IT REALLY LOUD!
The link again: Link here.
Fact Check
Alvin and the Chipmunks did not cover "Knock on Wood" and never recorded an album called Chip Shot. They should have.
Otis Redding: "The King of Soup." I like it.
LAST WEEK'S POLL QUESTION: 
What are the chances that Jimmy Charles could beat Johnny Mathis? "A Million to One." Johnny pitches a near shutout win.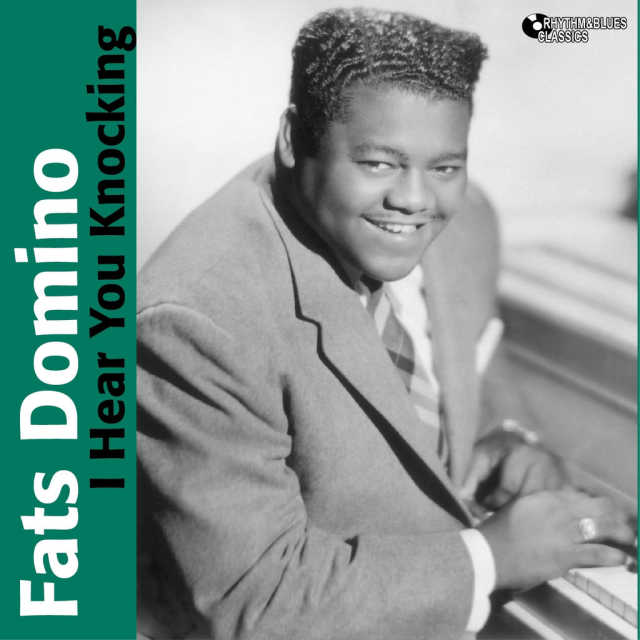 THIS WEEK'S POLL QUESTION:
Knockers up! "Who's That Knocking" by The Genies or "I Hear You Knocking" by Fats Domino? Who you got?
See you inside,
Thanks,
Alan