(
Editor's note: Palisadian Alan Eisenstock's 19th book "Redeeming Justice" co-written with Jarrett Adams, came out on September 14 and was named the Best Book of September by Amazon. "A consuming tale of a broken legal system, its trail of ruin and the fortitude needed to overcome its scarring."
When Eisenstock is not writing, he pursues what he calls "a crazy labor of love side project" that he started in March 2020: sending a weekly Covid-themed playlist of songs to his family and friends. These playlists (which can be downloaded on Spotify click here span rock 'n' roll and pop music from the 1950s to 2020, and Eisenstock adds one or two lines of commentary about each song that is clever, amusing and informative.)
Hi, Everybody,
The Los Angeles Times recently reported that, due to Covid, a surprising number of people are leaving Los Angeles and moving to either Nashville or Memphis. They are searching for more space, a cheaper cost of living, and a less stressful lifestyle. What to do? Idea. Here are 21 "Memphis" or "Nashville" songs. Listen up!
"Soul Man" Sam and Dave. Sam Moore and Dave Prater, called the "Sultans of Sweat" because of their hyper-energetic live shows, recorded this "Memphis Soul" hit in 1967. Isaac Hayes and Dave Porter co-wrote the tune and the Memphis "house bands" Booker T. and The M.G.s and the Mar-Keys horns backed up Sam & Dave. I'm sweating from writing all that.
"Honky Tonk Women" The Rolling Stones. Beginning with the emotional lyric, "I met a gin-soaked bar-room queen in Memphis," this rocker became a big hit for the Stones in 1969. Nicky Hopkins plays the piano and Jimmy Miller plays the cowbell.
"Suspicious Minds" Elvis Presley. "The King of Rock 'n' Roll" moved to Memphis when he was 13. More than anyone, Elvis is identified with Memphis, settling in Graceland. Elvis released this hit written by Mark James in 1968. Maybe my favorite Elvis song.
"Last Night" The Mar-Keys. A group of session musicians formed the first house band for Stax Records in Memphis. Nobody takes credit for writing this peppy instrumental, a hit in 1961. I believe the song contains two words: "last" and "night."
"Nashville Cats" The Lovin' Spoonful. One of my favorite sixties bands, headed by John Sebastian. John, a New Yorker, wrote this 1966 tribute to the scores of guitar pickers in Nashville, who were all better guitar players than he would ever be.
"Memphis" Johnny Rivers. Johnny Rivers, another New Yorker who tried to sound Southern, had a big hit with this 1959 Chuck Berry song. The Beatles also covered the song. This is the version I've heard most often, mostly in my dentist's office. P.S. I love my dentist.
"Graceland" Paul Simon. Another New Yorker and another Memphis song. This time Paul supposedly had thoughts of his failed marriage to Carrie Fisher as he wrote this song. From the 1986 album of the same name. The Everly Brothers sing backup.
"Progress" Booker T, Yim Yames. Booker T. Jones, multi-instrumentalist, arranger producer, and songwriter isfrom Memphis. He partners here with James Olliges a.k.a. Jim James, the force behind My Morning Jacket, a.k.a. Yim Yames when he goes solo. Yim (feels stupid writing that) does the vocals on this song from Booker T's Grammy-winning 2011 album The Road From Memphis. GREAT ALBUM.
"That's How I Got to Memphis" Buddy Miller. Buddy Miller covers this Tom T. Hall song from Buddy's 2011 album Your Love and Other Lies. Buddy sings about Memphis but lives in Nashville. It's an often-covered song, but I can't stop listening to Buddy's version. LOVE.
"Walking in Memphis" Marc Cohn. Cohn, from Cleveland, who went to Oberlin College, then ended up at UCLA, says that this song is "100 percent autobiographical." It's certainly his best song. Cohn won the Grammy for Best New Artist in 1991.
"Modern Blue" Rosanne Cash. Johnny's eldest daughter was born in Memphis and sings here about Nashville, among other places. The song comes from her 2014 album The River and The Thread. Rosanne's son Jake sings harmony.
"Memphis in The Meantime" John Hiatt. Rock, Country, Folk… Hiatt plays and writes it all. In my opinion, one of our best songwriters. John lived in L.A. for a time. I saw him at McCabe's Guitar Shop. He brought up his friend Lindsey Buckingham to join him on guitar. The place shook.
"Nashville Rebel" Waylon Jennings. The founder of the "Outlaw Movement" in country music, Waylon is legendary. This song, written by Harlan Howard, is the title song of the 1966 movie of the same name, which also starred Waylon. Have any of you seen it? I missed it.
"Hey Memphis" LaVern Baker. Born Delores Evans, LaVern sang some big hits in the sixties. This 1961 song, written by Doc Pomus and Mort Shuman, wasn't one of them. They adapted the song from 'Little Sister," an Elvis hit. You can hear the similarity.
"Mornings in Memphis" Justin Townes Earle. Talented singer-songwriter and son of   Steve Earle. Further evidence of the Memphis-Nashville crossover, Justin grew up in Nashville. Tragically, he died of a drug overdose at age 38… in Nashville. LOVE the song.
"Outside the Nashville City Limits" Joan Baez. Folk singer/songwriter, political activist, and possessor of one of the greatest singing voices, period. Joan wrote this song in 1971 and recorded it for her album Blessed Are... That voice.
"Johnny Bye-Bye" Bruce Springsteen. Bruce based this obscure song on a Chuck Berry song, "Bye Bye Johnny." I dig this rocking 1985 Bruce B-side. "Leaving Memphis with a guitar in his hand…"
"Nashville, TN" Chris Stapleton. Country music superstar and former Vanderbilt University engineering student, Stapleton sings this "Nashville" song from his excellent 2020 album Starting Over. This song is actually about leaving Nashville and going somewhere else, i.e. "starting over."
"From Galway to Graceland" Richard Thompson. "The Man" as my son calls him, British folk hero, co-founder of Fairport Convention. This song, from 1993 and his album Watching the Dark, is a gorgeous ballad about a woman obsessed with Elvis. LOVE.
"Steal My Kisses" Ben Harper & The Innocent Criminals. Folk, rock, blues, R&B, you name it, Ben sings it and plays it. This catchy song from 1999 features a "beatbox" backup. "I put into Nashville, Tennessee but you wouldn't even come around to see me."
"Stuck Inside of Mobile with The Memphis Blues Again" Bob Dylan. We end with this seven-minute story/poem by Mr. Nobel himself. The song appears on Blonde On Blonde, Dylan's essential 1966 double-album. Robbie Robertson may play on this. It's unclear. What is clear is that Bob recorded this "Memphis" song in "Nashville."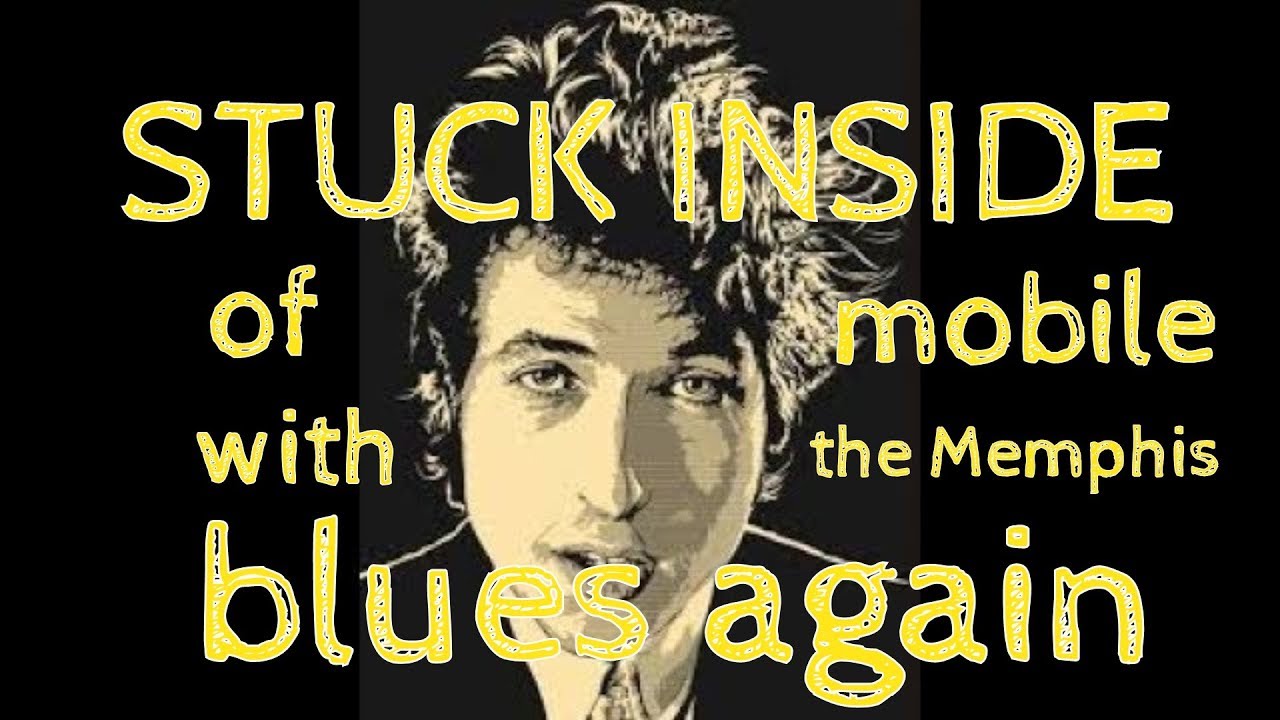 And there we are, crossing from Memphis to Nashville. I do love this playlist.
Some advice:
Don't Forget to Disinfect and… PLAY IT LOUD!
The link again: click here.
Fact Check 
I'm not sure if I've heard "Memphis" by Johnny Rivers in my dentist's office. It's possible.
There is a movie called "Nashville Rebel" starring Waylon Jennings. Anybody tempted to watch it?
LAST WEEK'S POLL QUESTION:
Elvis and "Blue Suede Shoes" TIED "Venus In Blue Jeans" by Jimmy Clanton. Thanks, Ellen.
THIS WEEK'S POLL QUESTION:
"Soul Man" by Sam & Dave or "Honky Tonk Women" by The Rolling Stones. Who you got?
There you go, another playlist. We're getting close to TWO YEARS of playlists! Wow.
Until next week,
Thank you,
Alan