(Editor's note: Palisadian Alan Eisenstock's 19th book "Redeeming Justice" co-written with Jarrett Adams, came out on September 14 and was named the Best Book of September by Amazon. "A consuming tale of a broken legal system, its trail of ruin and the fortitude needed to overcome its scarring."
When Eisenstock is not writing, he pursues what he calls "a crazy labor of love side project" that he started in March 2020: sending a weekly Covid-themed playlist of songs to his family and friends. These playlists (which can be downloaded on Spotify click here span rock 'n' roll and pop music from the 1950s to 2020, and Eisenstock adds one or two lines of commentary about each song that is clever, amusing and informative. He sent this list, and a subsequent list that CTN will run tomorrow, at the end of December.)
Hi, Everyone,
Another year comes to a close and we continue to face the ugly reality of Covid. Too many people remain unvaccinated and unmasked, while the Delta and Omicron variants surge. And the death toll rises–more than 800,000 Americans have died. What to do? Idea. Here are 18 "death" and "dying" songs… and this is only Part One. Listen up!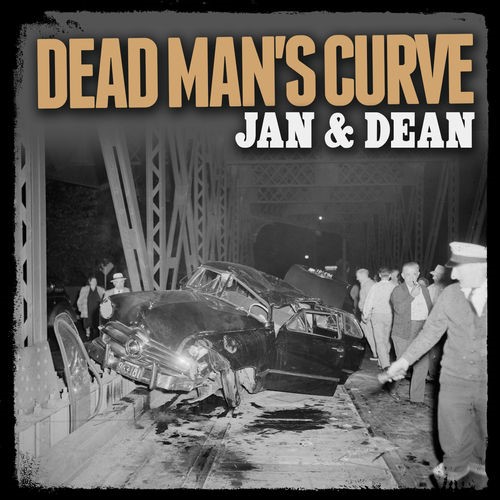 "Stagger Lee"  Lloyd Price. R&B singer from Louisiana, nicknamed "Mr. Personality," recorded this 1958 cover of a 1923 song about the murder of a pimp. Price's version hit #1 and sold over a million copies.
"Dead Man's Curve" Jan & Dean. Pioneers of the "California Sound," William Jan Berry and Dean Orsmby recorded this big hit in 1963. Brian Wilson, Artie Kornfeld, Roger Christian, and Jan Berry collaborated on the writing of the song one day at Brian's mother's house in Santa Monica. The result? A typical drag race gone bad song with many mentions of L.A. streets.
"Paint It Black" The Rolling Stones. A 1966 Stones anthem often associated with the Vietnam War as a protest song. I can't help imagining "the line of cars painted black" as a funeral procession.
"Last Kiss" J. Frank Wilson & The Cavaliers. One-hit wonders recorded their big hit in 1964, a cover of a song written and performed by Wayne Cochran in 1961. Subsequently, J. Frank disappeared and Wayne succumbed to alcoholism.
"Live and Let Die" Wings. Title song from the 1973 James Bond film, the first to star Roger Moore. Paul McCartney and his wife Linda wrote the song, which received an Academy Award nomination. The melody veers off in about ten different directions.
 "Another One Bites The Dust" Queen. Written by the band's bassist, John Deacon, this became Queen's best-selling single, passing 7 million in sales. Queen was a major stadium band and this 1980 song was a favorite. Too on the nose for the "death" playlist?
"Only The Good Die Young" Billy Joel. Cool song from Billy's 1977 album The Stranger. The song is actually about The Piano Man's quest in high school to have sex with a Catholic girl, premarital sex being a no-no, resulting in… death?
"The Three Bells" The Browns. Country-folk trio Ed Brown and his sisters Maxine and Bonnie recorded this 1959 hit based on a 1939 French song. The song written by Jean Villard Gilles and adapted by Bert Reisfeld is about the life and death of Jimmy Brown,no relation to the Browns who sang the song. Confused? I was.

"Ode To Billy Joe" Bobbie Gentry. Born Roberta Lee Streeter in Chickasaw County, MI, Bobbie Gentry was one of the first female artists to compose and produce her own music. Her big hit, written in 1967, contained the lyric "There was a virus going 'round, papa caught it and he died last spring." She wrote that line 54 years ago.

"(Don't Fear) The Reaper" Blue Oyster Cult. Progressive rock band formed in Stony Brook, NY. Donald "Buck Dharma" Roeser wrote and sings lead on "Reaper," perhaps their biggest hit, from 1976. Roeser had a premonition that he would die young and that led to this song. He's still alive, tottering around at 74.
"Tom Dooley" The Kingston Trio. Famous folk band formed in San Francisco. Nobody knows when this song was actually written but the Trio recorded it in 1958. It became perhaps their biggest hit and one of the best-known murder ballads ever. Murder ballad. Is that a thing?
"Prayer For The Dying" Seal. Henry Olusegun Adeola Samuel was nicknamed "Seal" because he was born with flippers instead of hands. Thank goodness for modern surgery. This was a huge hit for him in 1994. LOVE.
"Teen Angel" Mark Dinning. Another teenager-killed-in-a-car-wreck song. This one from 1959 was sung by Oklahoman Dinning and was written by his sister Jean and her husband Red Surrey. It's different because the death here does not occur in a drag race. Here the poor "teen angel" was left in a car that was hit by a train.
"Wall Of Death" Richard & Linda Thompson. British folk duo and married couple, the Thompsons recorded their most famous album, Shoot Out The Lights, in 1982. Richard wrote this one and I consider it one of his top five songs. LOVE.
"I Will Follow You Into the Dark" Death Cab For Cutie. Alternative-rock band out of Bellingham, WA, began as a Ben Gibbard solo project. This 2005 song, about death, was written and sung by Ben, accompanying himself on acoustic guitar.
"Candle in The Wind" Elton John. Got to have this one. Sir Elton's timeless tribute to the life and death of Marilyn Monroe from his iconic 1973 album Goodbye Yellow Brick Road. LOVE.
"Into My Arms" Nick Cave & The Bad Seeds. Australian heroes (well, to me) Nick and The Bad Seeds sing this 1997 song that's about dying and going to heaven. It comes from his very best album The Boatman's Call.Apropos of nothing, Nick's previous band was called The Birthday Party.
"Knockin' on Heaven's Door" Bob Dylan. We end with Dylan's hit from the soundtrack of the 1973 film Pat Garrett and Billy the Kid. A similar sentiment to Into My Arms.
There you are… 18 "death" songs… and that's only Part One. Amazing how many songs about teenagers dying in horrifying car crashes came out of the 1950s. A fun decade.
Anyway, some advice: Don't Forget To Disinfect and… PLAY IT LOUD!
The link again: click here:
Fact Check
I don't know if Buck Dharma is tottering at 74. He could be running marathons for all I know.
Seal was not born with flippers instead of hands.
LAST WEEK'S POLL QUESTION:
Paul Simon's "Under African Skies" stampeded past Bob Marley's "Buffalo Soldier."
THIS WEEK'S POLL QUESTION:
Car Crash Death Challenge: "Dead Man's Curve" by Jan & Dean or "Teen Angel" by Mark Dinning. Who you got?
Until next week and Part Two…Merry Christmas, Everyone,
Alan