More than $250,000 is offered as a reward for the arrest and conviction of the man who killed 24-year-old Brianna Kupfer.
Kupfer, a Pacific Palisades resident, was stabbed on January 13 when she was working alone at Croft House, a Hancock Park boutique furniture store. Kupfer was found on the floor by a customer.
At a news conference today, January 18, Councilman Paul Koretz and LAPD Chief Michel Moore announced a $50,000 reward from the City. Public and private donations, now total more than $250,000, Koretz said.
Koretz read a statement from the Kupfer family, "This is exactly the type of community support Brianna sought to provide in everything she did," the statement said. "Please take the time to hug and cherish your family today as Brianna would've wanted."
Police have released security camera video from a nearby 7-Eleven that shows the man sought in connection with the young woman's death. The video was taken about 30 minutes after the fatal attack on Kupfer.
Police said the man entered several other businesses before and after the attack, leading investigators to believe someone saw him and may have information that could help investigators.
"He walked for miles, both north, south, east and west throughout this neighborhood," said LAPD Lt. John Radke. "Someone out there knows this man. You need to come forward."
"We're here today because of Brianna," Moore said. "This individual responsible for this vicious, senseless and brutal crime, he walks amongst us — I'm convinced of that.
"I'm looking to that community today to help us solve this crime," Moore said.
The assailant, believed to be a homeless man, Shawn Laval Smith, is still at large after surveillance video captured him leaving the shop through a back door and walking calmly down an alley.
Anyone with information was asked to call the LAPD at 213-382-9470 or 877-TIPS-247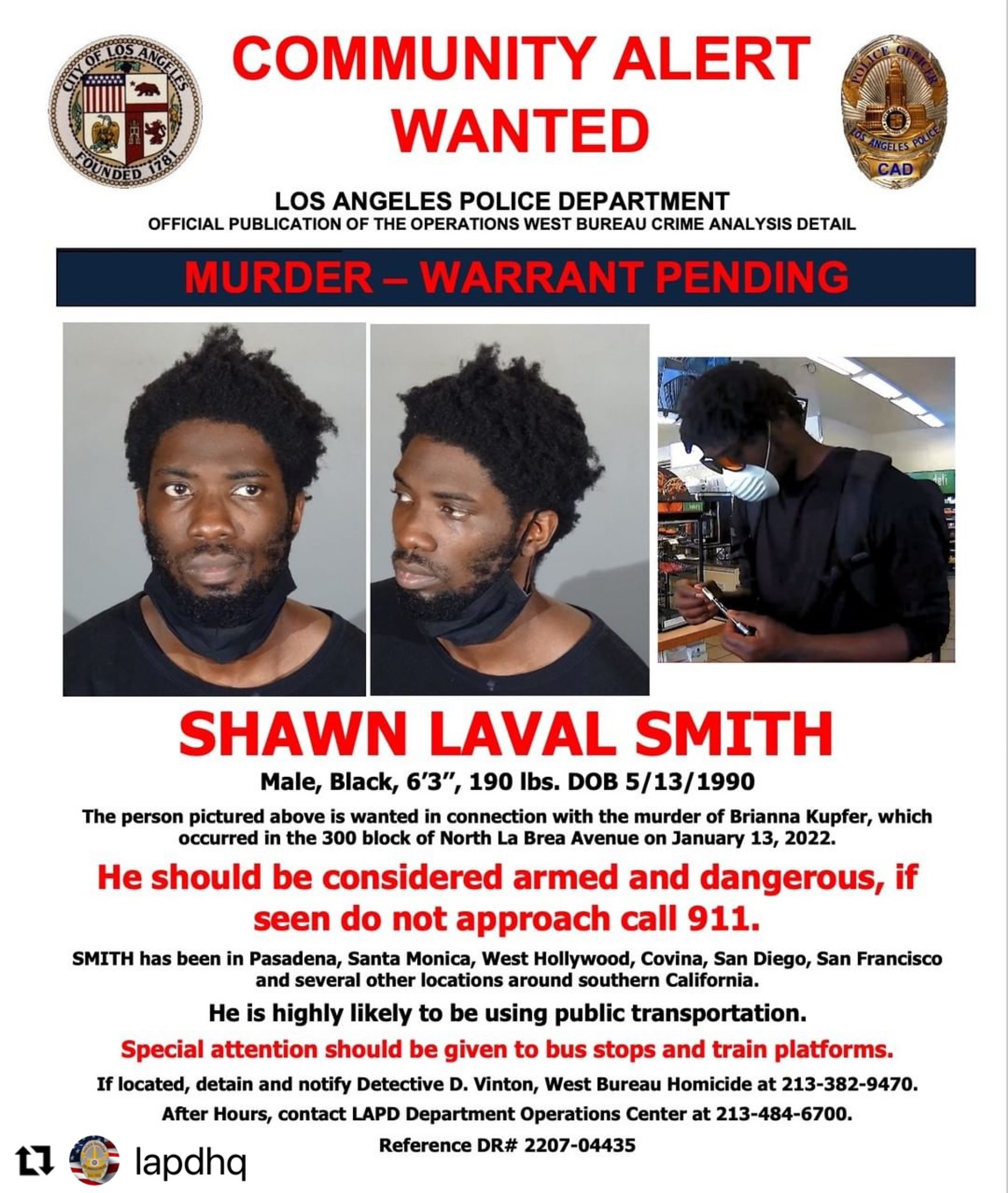 In an interview on "Fox and Friends," Todd Kupfer, the father of Brianna, was emotional and shattered, as he tried to share his daughter's inner beauty and have her remembered.
"She was a kind soul and always was trying to make herself better and everything around her better," said Kupfer, fighting back tears. "She cared about people."
The slain woman loved to sew and made a lot of her own garments by hand. "She liked fun clothes and thought they said something about people's personalities," he said. "She wanted to create a clothing line."
"She was the kind of person we need on this Earth," Kupfer said. "She was strong and vivacious."
Brianna's dad held politicians accountable for the rampant crime. "Crime is truly spiking, and we have a lot of criminals on the streets that shouldn't be out," he told  Fox News.
"We have a lot of politicians that somehow forgot about people and think the key to getting elected is to support the lowest rung of our society and to give them rights and somehow that's the answer to getting votes," Kupfer said. Over the weekend, LA officials announced a nearly 12 percent jump in homicides in 2021 from the year prior.
Brianna Kupfer attended St. Matthew's Parish School and then Brentwood School before going to the University of Miami. Upon the completion of her degree in 2019, she returned to attend graduate school at UCLA.
Her family, Todd, mom Lori, sister Mikaela and brothers Tucker and Brandon are bereft at the loss of their daughter and sister.