The documentary, 21 Miles In Malibu, which focuses on one of the deadliest stretches of road in California, Pacific Coast Highway, won at the Houston Film Festival for best safety film. "We're thrilled," said movie producer Michel Shane (Catch Me if You Can and I, Robot).
In 2010, his daughter Emily Shane was waiting for him on a Malibu roadside, when a guy pointed his car at the 13-year-old, ran into her and killed her.
The accidents on this stretch of road are deadly, and the 58-minute documentary is not only personal but is also meant to create change.
There will be a showing at 7 p.m. on May 19, in Malibu at Malibu Bluffs Park. The night will start with a Q & A about PCH safety concerns at 7:30 and the film will start at dusk. The movie is not intended for those under 16 years old. Visit: https://malibucity.org/21Miles.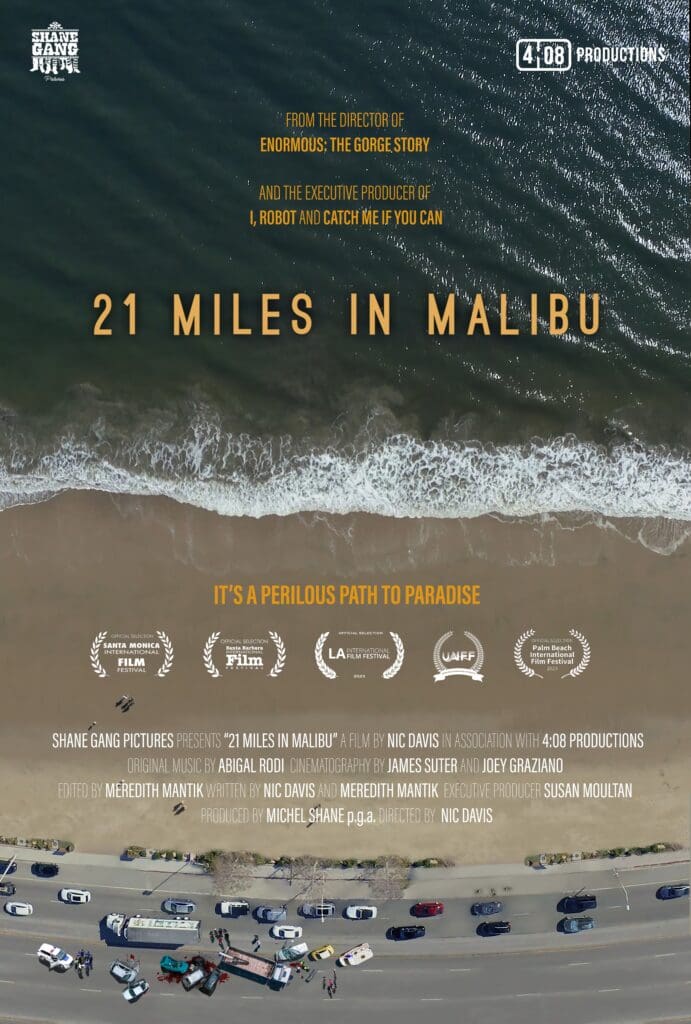 "On top of all this, we have a parole hearing for the man who murdered Emily on June 5," Shane said and included his statement to parole board, which is printed below.
Victims Trapped in a Never-Ending Cycle
I cannot fathom this reality. Our society emphasizes politeness, proper behavior, and respectful treatment. Yet, victims of unspeakable crimes – those too terrible to imagine inflicting even on our worst foes – are left with no rights, trapped in an unending loop, and forced to relive the atrocities that robbed them of justice repeatedly.
Is the law merely about bargaining? Does a conviction only signal the beginning of a new round of manipulations to twist outcomes?
Inmate AL8228 faces another parole hearing on June 6, after 13 years since extinguishing Emily's light. Convicted of second-degree murder, he was sentenced to a term of between 15 years and life imprisonment. My precious daughter only lived for 13 years; when will my own parole come? When can I return to a life filled with joy and laughter? I'm never granted that chance because I can't turn back time.
To clarify, Emily was murdered in 2010, 13 years ago. It took two years to convict AL8228 and sentence him to at least 15 years behind bars. Fast forward ten years, and he's already up for parole. Once again, we're thrown back into the nightmare. Despite being told that AL8228 had three more years before eligibility, we find ourselves here just over a year later.
Pause for a moment; imagine losing your child suddenly. Another two-year struggle compounds the grieving process as you try to navigate life with this gaping void in your heart. You must constantly relive painful memories as they dig deeper into your soul. The cycle starts anew – it feels like torture.
Is this the justice we hoped for?
Inmate AL8228 showed no remorse even after deliberately taking a life so callously. He manipulated the system for two years in his bid to escape murder charges and now uses the same tactics to secure his release. We're bracing ourselves for his parole hearing – the second one so far.
Murder is a ripple effect; it impacts not just one person but also friends, sisters, uncles, and cousins.
This man has shattered countless lives. To free him without consequence, effectively condoning the malicious snuffing out of a young life on a mere whim, is unfathomable in any compassionate society. Inmate AL8228 ought to spend at least 40 more years in prison. If he's ever released, he should be an old man – not in the prime of his life.
But we live in strange times – an era of political correctness and emphasis on rights and vulnerabilities. With DA Gascon in charge and advocating for prisoners' welfare rather than safety on our streets, it's only a matter of time before the prison gates swing open and unleashes these criminals back into society to wreak more havoc.
Mr. Gascon has made it incredibly difficult for victims to access important information about a prisoner's behavior while in jail, such as indications of rehabilitation. This vital data is readily available in other regions yet remains inaccessible here. We'll only discover the truth during the hearing.
Our fixation on appeasing others has led to undeserved suffering for the victims. As our society crumbles, we're edging towards a chaotic new reality.
Sincerely
Michael Shane, Father of Emily Shane
If you also seek justice or have been affected by the tragic murder of young Emily – a 13-year-old girl with her entire life ahead of her – please share your thoughts. It is crucial that we express why inmate AL8228 must not be set free. Refer to the information below:
The Parole Board must consider all emails sent to present a case about why the man who killed our daughter should remain in jail. There is a strict protocol for submitting an email, so it will be considered:
The statement must identify the inmate's name Sina Khankhanian
The CDCR number must be provided: Inmate AL8228
The date of the hearing must be provided: Parole Hearing November 6, 2023
Email must be sent and received by May 16 to BPH.CorrespondenceUnit@cdcr.ca.gov.
Shane said, "The parole board will want to know very specifically WHY this person should not be released. They consider the gravity of the offense and whether the inmate would impact public safety."
He added, "thank you and may you never walk in my shoes."