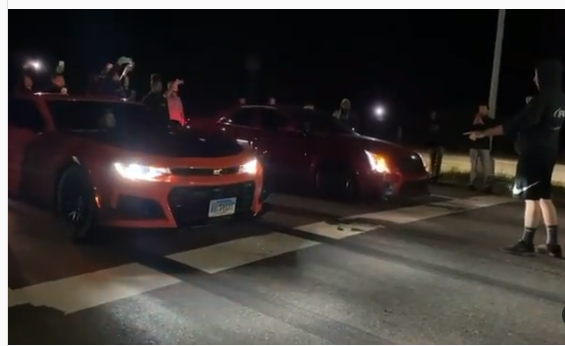 RV overnight parking and street racing continue to be a challenge, according to CHP and L.A. County Sheriffs. At the quarterly virtual meeting of the PCH Task Force on May 12, both enforcement groups voiced frustration. (LAPD and Santa Monica police were not in attendance, but will be reminded to join in future meetings.)
There were complaints from residents about RV parking along PCH, despite the fact that signs are posted that prohibit overnight parking. The Coastal Commission approved L.A. County posting signs prohibiting parking on the landward side of the highway between midnight and 2 a.m., and the seaward side between 2 a.m. and 4 a.m.
RVs can be ticketed, but it means that law enforcement officials would have to visit the RVs at those hours, a difficult challenge with reduced law enforcement personnel. "When we show up, we only issue two to three tickets, everyone else moves," the CHP officer said.
Several people in Malibu were concerned about dangerous street racers. Once again, lack of enforcement was cited as a problem. "We have had 12 STU's (street racing enforcement) in the past three months and made multiple arrests," the CHP officer said.
If the district attorney decides to prosecute, then officers are required to appear. "I don't go to court very often," one said, explaining that when people do go to court, "The cases are being dismissed as a slap on the wrist." The people easily get their cars back and just see it [enforcement] as an inconvenience.
"Cases are dismissed in the interest of justice," one officer said.
According to the officers, racing is being monitored in the entire area, but "there are only so many officers on a shift. It's a numbers game; we would need money for more officers."
Attendees were told that the street racers are organized groups, "who use social media, have spotters, and use binoculars. They are very sophisticated groups."
Caltrans Supervising Transportation Engineer for District 7 Abdi Saghafi reported that McClure Tunnel improvements are underway. The $6.3-million project will improve visibility inside the tunnel by upgrading the lighting system with LED lights. A queue warning system will also be installed, and the tunnel painted.
Saghafi told CTN in a May 14 email, "The schedule shows completion of the McClure Tunnel project in early 2023."
He was also asked about the improvements suggested for PCH at Chautauqua, W. Channel Rd. and Entrada. In that same email Saghafi told CTN that he was working on identifying a remaining issue and "I will provide you with an update shortly."
Pedro Garcia, project manager for George Wolfberg Park at Potrero Canyon, said that grading was completed, and the landscaping bids had gone out, with the awarding of the contract expected in the next few weeks. Construction to finish the park and install a riparian habitat should start in June and be completed in 2022.
The possibility of a pedestrian overcrossing from Potrero to the beach is considered safer than a tunnel or a mechanism/light that would stop traffic on PCH, but there is no money for a bridge.
"We're looking for funding," Garcia said, noting that there will be a trail from Potrero Canyon to Temescal Canyon so that people can cross at the signal at that intersection. It is an additional quarter-of-a-mile walk.
People were urged to go to the PCH Facebook, which is once more operational and being updated.
The PCH Task Force, which meets every quarter, serves an important role by bringing together representatives of three politicians (Assemblyman Richard Bloom and State Senators Ben Allen and Henry Stern; three cities (L.A., Santa Monica and Malibu) and their law enforcement entities, plus the California Highway Patrol.
Task Force members are especially focused on activities and concerns related to the 10 miles of Pacific Coast Highway from the McClure Tunnel to the Malibu Pier.
The PCH Task Force was formed in 2000 by Assemblywoman Sheila Kuehl, who is now an L.A. County Supervisor. Visit: Facebook Pacific Coast Highway Taskforce