(Editor's note: This is part 2 of a series about the needle exchange program in L.A. County Parks. Photos: John Alle)
A Venice Family Clinic van pulls up across from Saint Monica High School and Grade School and parks a half block from a playground.
Two men get out and approach those adults lounging in the park at about 1:30 p.m. on a Friday afternoon. A man stays behind and opens the back door to the van. This is a site for drug users to access clean needles, band aids and naloxone.
This editor is sitting at Holy Grounds, a coffee shop located at the edge of St. Monica School and goes to the van and asks what it provides.
The man, probably in his 30s is friendly and explains that they provide overdose prevention services. A young man comes up to the rear of the van, while we're chatting. I step back. The Family clinic guy asks if he needs a kit, he says "yes," he asks if he needs wipes, "yes." He asks if he needs Narcan, "yes," he said.
The young man was asked for his initials and his date of birth.  He gives them and says he was born in 1999. Holding his kit and wipes, he walks off.
I asked the guy in the van why they ask for initials, if they track the individuals, and he told me the information goes into a database.
Harm reduction means that the needle-exchange clinicians cannot ask them if they would like help, but rather have help ready if an addict asks for it.
This method of harm reduction ignores the families and friends impacted by an addict's behavior, who might be looking for them.
As this editor stood listening to the interchange, I wondered about the young man's mother. Did she know her son was standing in Santa Monica? Did she know her son was alive?
Reverend Andy Bales, who has worked with the Union Mission in Skid Row and with addicts since 1994, was appointed to the Los Angeles Homeless Services Authority Commission in November.
"I believe in recovery and people that are homeless with addictions — whether the addiction developed because of it or led to it — the addiction still needs to be addressed for them to live a whole healthy complete life," Bales said in an April 2021 Newsweek Story.
A May 12, 2023, L.A. Times Story ("L.A. County Wants to Curb Riskier Fentanyl Use. Its Approach Worries Some Activists") it notes that L.A. County has increased its "harm reduction" budget from $5.4 to $31.5 million and that includes giving out glass pipes.
The story points out that many skid-row residents say harm reduction, which in some form has a 40-plus-year history, albeit largely underfunded, hasn't worked, and they see the pipes as hurrying homeless people along to their destruction.
"'We're trying to give them real help. We don't give them drug tools,' said Skid Row activist Tony Anthony, whose video of pipe distribution was on local news."
To which Bales tweeted "With fentanyl deaths soaring, L.A. County is giving out drug pipes and other supplies-NO! We don't want to keep them smoking!! Thankful to my friends, OG, & Anthony, for sharing some common sense. I'm broken hearted about lack of the same from LA County."
In a February 2023 opinion piece in the Daily News ("Barbara Ferrer and Gary Tsai: We Must Take Bold Action to Halt the Tragic Drug Overdoes Crisis")
"Harm reduction includes a range of strategies that prioritize the health and well-being of people who use drugs over complete abstinence from substances. It is grounded in respectful and nonjudgmental services that meet people who use drugs wherever they are along the continuum of recovery.
"In fact, harm reduction is an aspect of medical care for many diseases and conditions already. For example, we do not tell people with diabetes that they can't be eligible for treatment unless they comply with diet restrictions 100% of the time or that people with heart disease can't receive care unless they exercise.  . . .
"These sites do not furnish drugs to people; they furnish a safer environment for people to use the drugs they are going to use anyway.
"The ability to expand harm reduction strategies should be coupled with an increased focus on addressing the root causes of human suffering with upstream interventions. At its root, substance use is often associated with a lack of connection to meaningful relationships, activities, and purpose."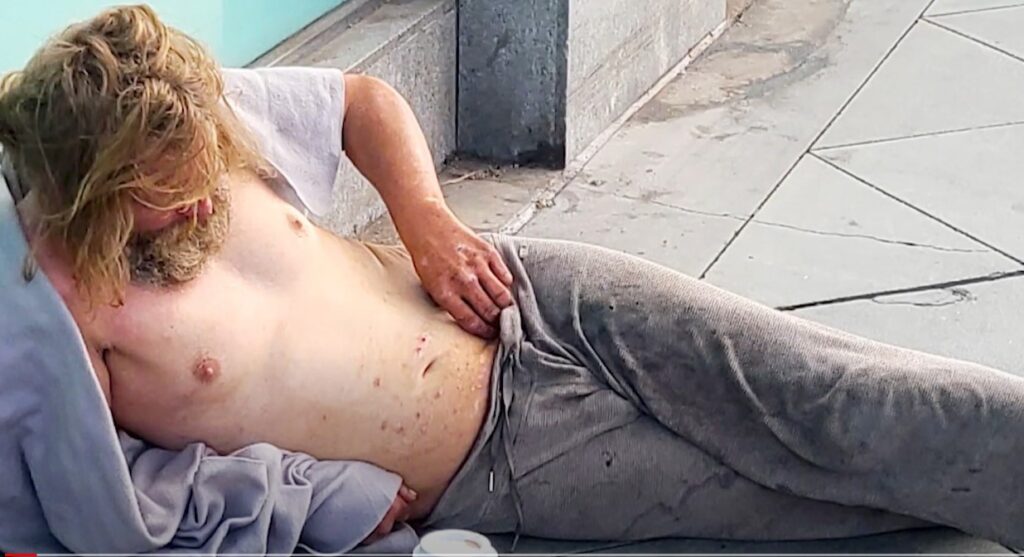 Bales, who for 30 years, has dealt with people who have addictions, told KABC's John Phillips that Ferrer doesn't know what she's talking about, and that the department is wrong about addiction.
The County said "clients are provided both intranasal and injectable naloxone to reverse opioid overdoses and hygiene kits. Clients who are interested in substance use treatment are referred to the Venice Family Clinic SUMMIT program. Clients are referred to Venice Family Clinic's Common Ground program for HIV and hepatitis C testing. If they require medical intervention, the homeless outreach unit from the Venice Family Clinic will go see the patients in their location."
The county noted that "Each interaction individuals have with outreach staff becomes an opportunity to discuss ways they can decrease their risk for overdose and for residents to connect with treatment when they are ready."
This editor's observation, and that of Santa Monica Coalition's Allen, who was lying on the ground in Reed Park, was no one is asking addicts if they would like to kick the habit, or if they would like to go to drug rehab, or if they want medical help or if they want to talk to someone.
"Harm reduction" has morphed into a movement that is described by the National Harm Reduction Coalition, as "a philosophical and political movement focuses on shifting power and resources to people most vulnerable to structural violence. . . and the realities of poverty, class, racism, social isolation, past trauma, sex-based discrimination, and other social inequalities affect both peoples' vulnerability to and capacity for effectively dealing with drug-related harm.
"Establishes quality of individual and community life and well-being—not necessarily cessation of all drug use—as the criteria for successful interventions and policies."
Reverend Andy Bales, in an op-ed piece about Housing First wrote the Union Rescue Mission, founded in 1891, practices a faith-based "recovery model." The 12-month intensive program includes 2,000 hours of a biblical 12-step program, recovery classes, work therapy, counseling and a physical fitness class.
Even though there are no statistics to show harm reduction works, the county now has increased its harm reduction budget to $26 million.
In three different emails, CTN asked if there was a plan to open needle exchange programs in other L.A. County locations. That question was never answered.